Stream Depeche Mode's 'Delta Machine' on iTunes before it's release on March 26th.
One week before its release, Depeche Mode are allowing fans a free stream of their new album 'Delta Machine' via iTunes.
The band has been in a flurry of activity in preparing for the release; they've appeared on David Letterman, and played at SXSW (that I'm still jealous that I couldn't see, given I live in Austin!).
They've also just announced world tour dates (hopefully I can catch them later this year when they come back through Texas)!
The band has set the margin high for 'Delta Machine'. Songwriter/Vocalist Martin Gore announced details last year about the album: "The music has a similar vibe to [1990's] Violator and [1993's] Songs of Faith and Devotion and I think the songs on the album are among some of the very best we've done."
Now that's a tall order. 'Violator' remains their greatest album. But I'm not one of the many who has disavowed the band's latter-day output. I still think 1997's 'Ultra' is an underrated masterpiece (luckily they're adding 'Barrel of A Gun' to their new set list) and enjoyed their past two releases 'Playing The Angel' and 'Sounds Of The Universe.'
But I wasn't overly wowed by the opening single 'Heaven.'
But first impressions shows that the overall album (produced and mixed by long time collaborators Ben Hiller and Flood) is more diverse than that tracks leaden feel. Dave Gahan and Martin Gore's vocal harmonies remain one of the most compelling sonic elements.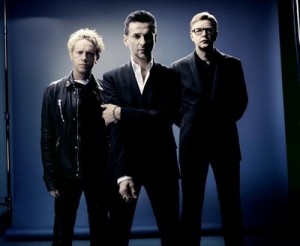 Here's the full track listing:
Delta Machine:
01 Welcome to My World
02 Angel
03 Heaven
04 Secret to the End
05 My Little Universe
06 Slow
07 Broken
08 The Child Inside
09 Soft Touch/Raw Nerve
10 Should Be Higher
11 Alone
12 Soothe My Soul
13 Goodbye
Bonus disc:
01 Long Time Lie
02 Happens All the Time
03 Always
04 All That's Mine
So check out the stream, and chime in with your thoughts about 'Delta Machine.'
And you can pre-order it on iTunes below: