Soundgarden Superunknown Concert To Air On Howard Stern Network; 20th anniversary show to air on SiriusXM this weekend.
Sirius XM subscribers/Soundgarden fans take note; it's gonna be a Superunknown kind of weekend.
Starting Friday June 20th, Stern's network will air the band's June 2nd performance at NYC's Webster Hall in its entirety. The show has the band performing their iconic album from start to finish.
The show will continue to air over the weekend, along with interviews Stern conducted with the band and behind-the-scenes commentary.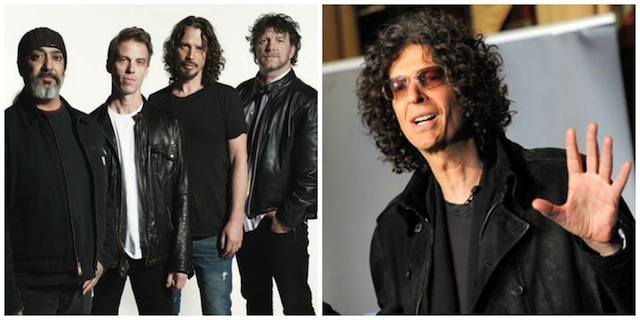 Stern made the announcement earlier this week; "They took their whole album, Superunknown, which of course had so many great hits on it, and they decided because it was the 20th anniversary of Superunknown, if you can believe that…these guys got together and said, 'Hey, for one live concert, we're gonna get together and do the whole album.' And so we were lucky enough to be there and record it. And so, like the old days of rock radio, we're gonna put it on the air."
Stern interviewed frontman Chris Cornell earlier this week regarding the special, and to get his take on modern music, noting the decline of rock and roll in pop culture.
But Cornell offered some encouraging words; "I actually heard somebody quoting a percentage the other day, that 70% of people polled nowadays, and it must be young people, are into Electronic Dance Music…The only thing I can say, is that tends to be the beginning of like a really great new movement in rock, which is the same thing that kind of happened when disco was dominating. All of the sudden then you had punk rock, that came as a reaction to it…So maybe that will happen now."
Cornell also mentioned the band has released a 20th anniversary deluxe edition of Superunknown (click here for album specs).
Order Superunknown 20th Anniversary Box Set on Amazon:
[amazon_image id="B00IXLQJOO" link="true" target="_blank" size="medium" ]Superunknown (20th Anniversary Super Deluxe Edition – 4CD + 1Blu-ray Audio Disc)[/amazon_image]
All Soundgarden goodness will air on the Howard 101 channel. For those SG fans who don't have SiriusXM, click here to order. Just remember you have to choose the Howard Stern package to hear it this weekend.
To give you a taste, here's Cornell's recollections of recording of the album.