SLIS's 17 Best Rock Albums of 2017: picking the best alternative and metal albums from a year that tested our sanity. 
Let's not mince words. 2017 was pretty shitty (remember when we thought 2016 was bad? Oh those were the days!).
From the political landscape to natural disasters, mass shootings and the loss of icons, it basically flat-out sucked. But thankfully we had some great tunes to get us through it.
Music is the buffer zone for our soul, giving us solace and comfort in even the most trying of circumstances. And there was no shortage of good music to help us power through the madness.
Yep, 2017 had some amazing efforts from new acts, comeback albums from reunited legends, and other solid entries from veteran acts in both alternative rock and metal. Let's look at the 17 best of the year, shall we? If you want to own any on Amazon, simply click on the album image.
17. Godflesh Post Self

Why have I only recently discovered Godflesh put out a new album? And why are they so bad at self-promotion? I don't have the answers, but the music is what matters, and Post Self is bracing stuff. It's an industrial, hypnotic nightmare that is as riveting and cathartic as any horror film, which makes it apt listening for this hell-ride of a year.
16.Confrontational The Burning Dawn
On his latest release CONFRONTATIONAL (aka Massimo Usai) perfects his mad scientist fusion of synthwave, darkwave and metal elements into a sound perfect for film scores and dance floors. It's a winner from start to finish on tracks like Fade Into The Burning Dawn (featuring Tying Tiffany), Set The Night Ablaze (featuring John Carpenter's son Cody) and Together Again.
15. Chelsea Wolfe Hiss/Spun

Wolfe keeps refining her mix of doom metal. goth and industrial to divine effect. While Hiss/Spun doesn't match her 2015 masterpiece Abyss, the dark charms of songs like 16 Psyche, Vex and Spun prove impossible to resist.
14.Toadies The Lower Side of Uptown 

After going unplugged on their eccentric 2015 album Heretics, Fort Worth's Toadies dive right back into their signature sound, delivering their heaviest and catchiest release since their 1994 classic Rubberneck.
13. The Horrors V

I honestly didn't care for V when I first heard it. Somehow it felt too safe and tidy for a band who seem best at their most feral. But repeated listens proved key to understanding its charms. It may be a more mature Horrors, but tracks like the sexy Machine and emotive Something to Remember Me By rank among their finest tunes.
12. Wolf Alice Visions Of A Life
Wolf Alice are one of the most engaging rock bands going right now, and they draw upon the best elements of 90's alternative for their latest release, featuring tracks like the sublime ballad Don't Delete The Kisses.
11. The Veldt Thanks to the Moth and Areanna Rose 
The reinvigorated soul-gaze collective kept their momentum going in 2017, with this stellar EP among their recent highlights. Featuring collaborations with the likes of Cocteau Twins' Robin Guthrie and A.R. Kane, it saw the group fusing wintry sonics and emotive vocals on instant classics like Fit To Be Tied and The Color of Love is Blue. 
10. Gene Loves Jezebel Dance Underwater

Jay Aston's GLJ return with their first album of new material since 1997, and it manages to recall their past post-punk glories, while still feeling contemporary on infectious numbers including IZITME, How Do You Say Goodbye (to Someone You Love), and Chase The Sun.
9. Tyson Todd Meade Robbing The Nuclear Family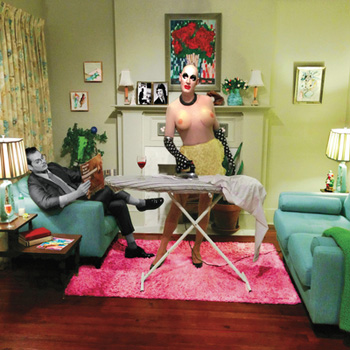 Alt-rock pioneer Tyson Todd Meade (of Chainsaw Kittens and Defenestration fame) returns with his best solo album to date, featuring songs that straddle the line between 70's glam (P.S. Nuclear Forest Dance Song), vintage punk (He's The Candy), and all things in-between (Motorcycle Boy #3). Available on Jett Plastic Recordings.
8. Steve Kilbey and Martin Kennedy Glow and Fade
The frontman for The Church and mastermind from All India Radio continue their unique synergy, forging soundscapes that rival Pink Floyd at their most grandiose. Epic grandeur abounds on songs like the title track and The Game Never Changes.
7. Spotlights Seismic

This husband and wife duo sure make a big racket for a two-piece. The band's latest album Seismic lives up to its name with huge riffs and shoegaze textures that makes for one of the freshest metal releases in years.
6.The Afghan Whigs In Spades

The Whigs' In Spades (featuring late guitarist Dave Rosser) is even more on point than their 2014 comeback Do to the Beast, showing the Ohio alt-soul icons at their horny and soulful best on songs like Demon in Profile, Birdland and Into the Floor.
5. LCD Soundsystem American Dream

Didn't these guys just break up? One could be forgiven for thinking the group's faster than expected reunion was a cash grab…but their latest album American Dream shut down the cynics. It ranks among their best.
4. Ride Weather Diaries

Ride are back and better than ever on Weather Diaries, which touches on all the previous points of their career, from gauzy shoegaze to proto-Britpop. Songs like Charm Assault, Impermanence and White Sand, offer catchy anthems full of political and social commentary.
3. The xx I see You

The xx have finally found a way to deviate from their signature sound while remaining as hook-driven and infectious as ever. More upbeat and insistent than past dreamy efforts, I See You is full of earworms that enchant, from the flat-out euphoria of On Hold and I Dare You to the sultry blue-eyed soul of Restless.
2. The Church Man Woman Life Death Infinity

On their 26th studio album, The Church are still firing on all cylinders with their potent brand of psychedelia. It's the epitome of an immersive listening experience, expanding on the strengths of their 2014 release Further Deeper. Songs like Submarine, Before The Deluge and Another Century show them at the peak of their powers.
1. Slowdive Slowdive

Slowdive didn't try to bow to current trends with their reunion album. They just dialed into their signature sound, creating an album that sounds like classic Slowdive in the best sense.
And they showed modern devotees (I'm looking at you Alvvays) how its done on tracks like Star Roving, Falling Ashes and Sugar For The Pill.
There's not one bad song on their self-titled effort. It's the gold standard by which all other comeback albums should be measured. Let's just hope we don't have to wait 22 years in-between releases again.
Well that wraps up our list! What albums make up your favorite 2017 releases? Tell us in the comments, and stay tuned for our list of the best songs of 2017 as well. Honorable mentions are below.
Honorable Mentions: Prong Zero Days, Body Count Bloodlust,Hobosexual Monolith, Dead Cross, Nine Inch Nails Add Violence, John Carpenter Anthology, QOTSA Villains, Crystal Fairy.