Royal Thunder 'Wick' Review: Atlanta rockers continue refining their unique blend of moody, anthemic metal.
Atlanta's Royal Thunder proved a revelation on their 2015 release Crooked Doors. That album showed a quantum leap in development of the group's moody and muscular brand of hard rock. It also cemented Mlny Parsonz as one of the most powerful new vocalists in metal.
And on their new album Wick (due April 7th on Spinefarm Records), the group continue their evolution. Starting off with the Middle Eastern-tinged droning riff of Burning Tree, the album covers wide sonic terrain, underpinned by lyrics of heartbreak and catharsis.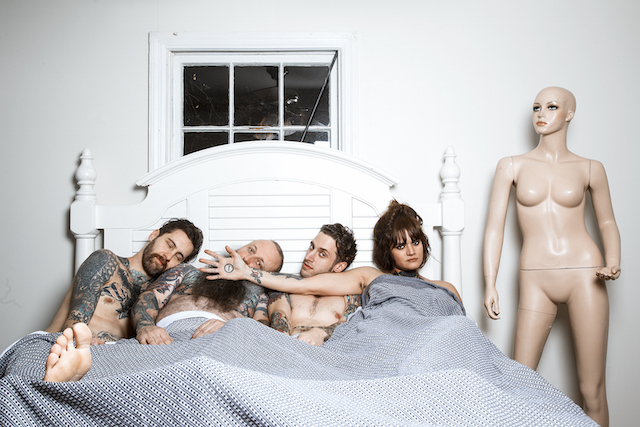 April Showers has an epic classic rock groove, starting off with eerie chiming guitars before launching into strident riffing, with Parsonz' soulful pipes sounding like an unholy fusion of Stevie Nicks and Layne Staley.
The aspect that draws me to this band repeatedly is their openly emotive compositions–Parsonz always sings with her heart on her sleeve, bleeding soulful confessions throughout. Take Tied, where her earthly wail is complimented by Josh Weaver and Will Fiore's slithering guitars and tubular bell percussion, or the chugging, arena rock chorus of Anchor.
The band pull out all the stops on Plans, an anthemic bluesy ballad with Parsonz conjuring the ghost of Janis Joplin with heart-wrenching vocals. It's a breakup song both internal and external, with wise-beyond-her-years lyrics of self-examination.
On the band's press release, Weaver states Wick was recorded under arduous circumstances: We're all going through so many changes in our lives. We had people who had passed away during this album, that was a catalyst for how this record turned out. It wasn't easy to record, but it was absolutely worth it. Thank god that we had this vehicle to make an album, and to put our soul in to.
It's this sense of loss and renewal that fuels the album, be it the longing piano driven Push or the stomping, transcendent We Slipped.
The Well is a gloomy stunner that builds slow before erupting into a full throated-power ballad chorus. Parsonz chill-inducing pipes are on fire here, and its a show-stopper.
The last track We Never Fell Asleep is the group's most adventurous song, which essentially marries all their disparate elements before concluding with a hushed, gospel flavored coda, with drummer Evan Diprima veering through each transition with rollicking precision.
Royal Thunder's commitment to forging their own path regardless of current trends is refreshing and rewarding. No other current band seems capable (or willing) to make catchy hard rock with unabashedly melodic vocals. Wick is yet another satisfying chapter in their distinctive sonic journey.
Preorder Wick on Amazon: