Royal Thunder Holy Mountain Concert Review:  rockers turn in a sultry set on a mild Texas night.
★★★★★
Just a few short months after their high-profile SXSW appearance, Atlanta hard rockers Royal Thunder returned to Austin for a set at Holy Mountain this past Sunday.
Following the vintage 80's NWOBHM riffage of Houston's Venomous Maximus, and the Dillinger Escape'ish Wild Throne, the Georgia four-piece hit the stage, starting with the emotive, droning Time Machine, the killer first track from their new album Crooked Doors. The track proved from the start that vocalist Mlny Parsons has one of the best voices in modern rock, causing hair to stand on end with her emotive wail.
The majority of the set pulled from the new album, which went over well with the appreciative crowd. Songs like the sludgy Forget You moved the air with thick and murky riffing and palpable atmosphere. Guitarist and songwriter Josh Hamilton played through a multitude of effects pedals, allowing for psychedelic interludes between each track, augmented by recent recruit and second guitarist Will Fiore.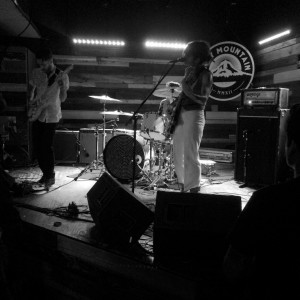 Their interplay on Middle Eastern tinged Forgive Me Karma cast a spell over the crowd, while Parsonz (who pulls double duty on bass) and drummer Evan DiPrima ably held down the bottom end throughout the taut, hypnotic set.
After delving into a few tracks from their début album CVI, including the stoner-riffic Sleeping Witch, the band closed out their set with the simmering Crooked Doors track Glow, where Parsons belts: I know that they know…what we are. And as the crowd filed out, they knew that they'd seen one of the best rock acts of 2015.
You can order Crooked Doors via iTunes or Amazon from the links below:
[amazon_image id="B00T5ZTXSQ" link="true" target="_blank" size="medium" ]Crooked Doors (Deluxe Version)[/amazon_image]