Robert Smith Announces 3 New Cure Albums, Attacks Music Critic: Cure frontman clarifies recent comments on new Cure material, and goes off on a reviewer who trashed the band's recent gig.
It's nice to know that no matter how old a punk/goth luminary gets, he can still dredge up the angst when necessary.
Such is the case with The Cure's Robert Smith, who's been a tad irritable the past few days, both in regards to comments on the forthcoming new Cure album and a recent derogatory concert review.
Things started off on a bad foot, when the singer apparently back pedaled on new album news in an interview with London's XFM, saying:
"I've finished singing and mixing an album that was made by a band that no longer exists… So I'm trying to be convinced that I should release what is the second half of an album that effectively came out in 2008.  It's a bit of a sore point, really, to be honest, amongst this current lineup. But I think it will get released. … I don't feel such a strong urge, really, to beat people over the head with new stuff. It will just come out and people who want to hear it will hear it and those who don't, won't, and they'll just keep dancing to 'Close to Me.'"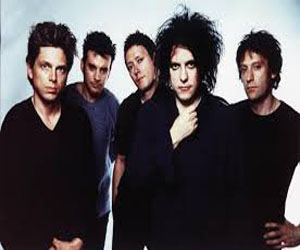 But Smith was not fond of the tone of that interview, and took to his band's official website to clarify things (IN ALL CAPS):
"I HAVE LITTLE DESIRE TO BE DRAWN
AND LITTLE CONVICTION IT REALLY MATTERS THAT MUCH…
BUT ON THE BACK OF THE WEARY AND EVER MORE NEGATIVE INTERPRETATIONS OF MY SHORT POST SATURDAY RAH SHOW CHAT WITH XFM
I WILL TRY TO EXPLAIN A VERY SIMPLE CHAIN OF EVENTS AS CLEARLY AND SUCCINCTLY AS I CAN, GIVEN A NUMBER OF GENUINE CONSTRAINTS…
LIKE NOT WANTING TO NAME TOO MANY NAMES OR POINT TOO MANY FINGERS
IN 2007 THE CURE (ME, SIMON, JASON AND PORL THOMPSON) REHEARSED AND RECORDED 33 SONGS WITH THE INTENTION OF CREATING A DOUBLE CD ALBUM CONTAINING APPROXIMATELY 2 HOURS OF MUSIC."
Smith went on to explain how the upcoming Cure material would be released;
1)
A LTD EDITION '4:26 DREAM' DOUBLE CD ALBUM OF 26 SONGS (ALL REMIXED) – IE. 'THE ORIGINAL 4:13 DREAM SESSIONS CONCEPT ALBUM' (INCLUDING THE 'INSTRUMENTALS WITH WORDS') – OF WHICH 10 TRACKS OR MORE WILL BE PREVIOUSLY UNRELEASED…
2)
A LTD EDITION '4:14 SCREAM' SINGLE CD ALBUM OF 14 PREVIOUSLY UNRELEASED SONGS – ALBEIT SOME OF THEM MAY ALSO BE ON '4:26 DREAM'… BUT THESE '4:14 SCREAM' VERSIONS WILL ALL HAVE WORDS AND VOCALS…
What's more important, is that is he also hinted at creating new music from the current lineup.
But Smith's crankiness over feeling misinterpreted didn't stop there. He got (understandably) miffed after Guardian critic Caroline Sullivan bashed the band's recent Teenage Cancer Trust Benefit show, complaining that the copious 44 song set was too long, and "numbing", and also bashed Smith's aging looks.
For any Cure fan, this is crazy. We actually like getting our moneys worth, and The Cure always plays a large cross-section of their massive discography. It's a plus, not a negative.
After getting bashed in the comments section of the Guardian article, Sullivan claimed that she had it on "good authority that the band have read the review and liked it".
It's not surprising that a music critic so clueless would imagine a band enjoying getting a dismal review, and Smith let her have it, and then some, in another (ALL CAPS) rant on the band's official Facebook page:
"I have it on good authority that the band have read the review and liked it." Caroline Sullivan… WHAAAT?!!
SHE WAS COMMENTING ON HER OWN GUARDIAN 'REVIEW' OF OUR EPIC 45 SONG 213 MINUTE FRIDAY RAH TEENAGE CANCER TRUST SHOW
TO BE CLEAR – AND ON THE BEST AUTHORITY – THE BAND HAVE INDEED READ THE REVIEW – BUT DID NOT LIKE IT!
THE REVIEW WAS – TO PUT IT POLITELY – LAZY NONSENSE… swampy… numbing… yet to work out how to build up a show… GULP!!!
BUT WE NOW KNOW WHERE WE HAVE BEEN GOING WRONG ALL THIS TIME: Condensed into 90 minutes, this would have been one of the gigs of the year
WE PLAY TOO MANY SONGS! DOH! BUT… IS IT NOT VERY OBVIOUS THAT WE PLAY OUR OWN SHOWS (AS OPPOSED TO FESTIVAL HEADLINES) FOR FANS OF THE BAND?
THAT IS WHY WE PLAY A MIX OF SONGS, AND WHY WE PLAY FOR AS LONG AS WE DO…
WHEN WE GO TO SEE AN ARTIST WE ARE FANS OF, WE DON'T WANT THE PERFORMANCE TO END… THAT'S WHAT BEING A FAN MEANS… ISN'T IT?
WE HAD TWO FANTASTIC NIGHTS, PLAYING TO GREAT CROWDS FOR A WONDERFUL CHARITY… THE GUARDIAN 'REVIEW' WAS SAD BITTER JUNK
PS. AS FOR THE TORYGRAPH HACK… sigh… ONWARDS
In response Sullivan posted another Guardian piece, again being dismissive of the band's long set, but offering a tepid piece offering; 'Robert, buy you a drink'?
Nope, Smith wasn't having any of it, and took to the Cure's Facebook page anew:
LAZY NONSENSICAL CONTENT ASIDE; WE WERE DRIVEN TO REACT TO CAROLINE SULLIVAN'S 'REVIEW' BY THE BLATANT DISHONESTY OF HER ACCOMPANYING COMMENT
"I have it on good authority that the band have read the review and liked it." IT WAS SIMPLY TOO MUCH TO IGNORE…
HAVING EXPOSED THE LIE, WE FIGURED WE WOULD AT THE VERY LEAST GET SOME KIND OF A HANDS IN THE AIR "IT'S A FAIR COP GUV" FROM HER FOR ATTEMPTING SUCH A BANAL SELF SERVING DECEPTION… WE THOUGHT THERE MIGHT EVEN BE A FAINT CHANCE THAT SHE WOULD BE MOVED TO APOLOGISE TO HER READERS FOR MAKING STUFF UP!
BUT AS COMMENT BY COMMENT SHE DIGS HER EVASIVE HOLE A LITTLE DEEPER, IT WOULD SEEM WE HOPED FOR TOO MUCH…
A SHAME. WE ALWAYS THOUGHT THE GUARDIAN AND ITS JOURNALISTS VALUED TRUTH?
"OK, Robert. Buy you a drink?"… gulp!!!
HONESTLY? ummm… WE WOULD PREFER YOU JUST REVIEWED WITH A TAD MORE UNDERSTANDING AND HONESTY AND CONSIDERING LINES LIKE "Not as scary […] as Robert Smith in full fig" MAYBE THREW A FEW LESS STONES? OR MOVED OUT OF YOUR GLASS HOUSE?!!
"Rock is about grabbing people's attention." REALLY? THAT'S WHAT WE ARE SUPPOSED TO 'BE ABOUT'? YOU THINK THAT'S IT? IT WOULD EXPLAIN A LOT
WE WILL NOW DRAW A LINE UNDER THE 'SAD BITTER JUNK REVIEW' EPISODE, AND SLIP BACK OUT INTO THE WORLD WITH A SHAKE OF THE HEAD AND A SMILE…
PREFERRING THE OLD GOTH DISNEY DICTUM TO ROCKER SIMMONS';
"WE ARE NOT TRYING TO ENTERTAIN THE CRITICS; WE'LL TAKE OUR CHANCES WITH THE PUBLIC"
And that last line is key; at this point, the band still has a rabid fan base, who could give two shits about a negative reviewer, esp. one who chose to bash the band at a charity event.
But Cure fans don't need to worry about defending the band, or it's frontman. He's quite capable of doing it himself, thank you very much..
Are you excited about the new Cure material? Are you annoyed by the critics review of the Cancer trust show? Tell us in the comments.
Buy The Cure T-Shirts and Merchandise Rock.com