RIP Scott Weiland: His 25 Best Songs: remembering the late singer and lyricist with this ultimate playlist of songs from Stone Temple Pilots, Velvet Revolver and his solo material.
On December 4th, the news broke that former Stone Temple Pilots frontman Scott Weiland died in his sleep at the age of 48.
The saddest part of this announcement to longtime fans is that we've woefully expected this news ever since his battle with heroin in the 90's.
While in recent years the singer appeared to kick the habit, he then turned to booze, resulting in incoherent interviews and sloppy performances.
While the cause of death at this time is unknown, a life of hard living has apparently taken its toll.
But you know what? Pretty much every piece you'll read today will be about his addiction, troubles, etc. Nothing I can really add to that.
He was maddening at times. Hell, we've even goofed on him on this site (and I've written on others) over the years for putting his fans, family and band mates through the wringer with his various antics.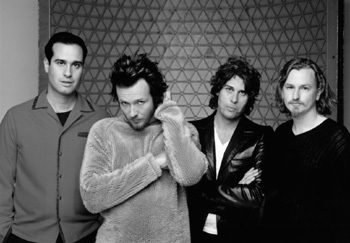 But no one would be so upset with him so passionately if he didn't make great songs. And that's why I feel both sad and angry about his passing.
So I'm choosing to let his music do the talking today. That's why he was so beloved and deservedly so. Here's him at his peak: his 25 best songs from STP, Velvet Revolver and his solo output.
25. Sour Girl-STP (1999)
While the band's '99 album No.4 was considered a commercial disappointment at the time, Sour Girl became their highest charting hit. But its poppy delivery belies its emotional content describing the collapse of Weiland's first marriage.
24. Loving The Alien-Velvet Revolver (2004)
This lovely power-ballad closed out Velvet Revolver's début album Contraband, with Weiland's lyrics nodding to his musical hero David Bowie (who has a song of the same name).
23. Got No Right-Velvet Revolver  (2004)
Another moody VR ballad features Weiland at his most vulnerable and sonorous.
22. Adhesive-STP (1996)
An ornate 60's-esque ballad featuring the band and Weiland at their art-rock best.
21. Still Remains –STP (1994)
One of the band's best deep tracks, this gem off their sophomore album Purple has elements of both prog and southern rock, and lyrics like If you should die before me ask if you can bring a friend/Pick a flower, hold your breath and drift away-written in honor of Weiland's then fiancée, sounds painfully poignant in another context today .
20. Heaven and Hot Rods-STP (1999)
My favorite track from No.4, Heaven and Hot Rods proved a perfect mix of Tiny Music-era glam and Purple-grunge.
19. Tumble In The Rough– STP (1996)
Stone Temple Pilots stretched their wings on their third album Tiny Music-Songs From The Vatican Gift Shop, ditching their grungy beginnings for a more power-pop based sound.
Tumble In The Rough (entirely written by Weiland) is an underrated tune showing his chameleon-like vocals drifting from Eddie Vedder yarl to 70's Bowie snarl.
18. Barbarella-Scott Weiland (1998)
While much of Weiland's solo output was spotty, his début solo album 12 Bar Blues (assisted by longtime U2 producer Daniel Lanois) is a particularly strong effort.
And Barbarella is a beautiful tune with spacey electronics and clanging guitars lifting his granulated baritone into cosmic flight.
17. Silvergun Superman-STP (1994)
Not sure why this track wasn't released as a single off Purple, because it's a winner, starting with a bottom-heavy riff before blasting into an anthemic chorus, with Weiland's vocals bobbing and weaving to grand effect.
16. Lady Your Roof Brings Me Down-Scott Weiland (1998)
This second selection from 12 Bar Blues (also featured on the Great Expectations soundtrack) shows that Weiland was thoroughly unafraid to go for the weird. Theatrical and full of bizarre lyrics with Roxy Music-esque cabaret overtones, Lady remains one of his quirkiest compositions.
15. Big Bang Baby-STP (1996)
A Tiny Music track channeling Ziggy Stardust-era Bowie, Big Bang Baby is a sugar rush of a tune with hooks for days and a clever 80's New Wave inspired video.
14. Falling To Pieces-Velvet Revolver (2004)
Contraband, Weiland's first album with Velvet Revolver was a perfect synthesis of 90's post-grunge with 80's cock-rock. And Falling To Pieces was power ballad grandeur featuring one of his most emotive and powerful vocal performances, with lyrics recalling the pitfalls of addiction (accompanied by a suitably harrowing video).
13. Trippin' On a  Hole In A Paper Heart-STP (1996)
The best STP tracks combined dissonance and harmony and Trippin' is no exception, with sandpaper discordant riffing giving way to one of the frontman's most anthemic choruses.
12. Slither-Velvet Revolver
For anyone concerned that Slash and Weiland were an odd combo, Slither put it to rest immediately with the top hatted guitarist playing one of his most appropriately serpentine riffs while the singer went into vampire rock god mode.
11. And So I Know-Stone Temple Pilots (1996)
One reason Stone Temple Pilots got such grief for being poseurs were their ability to effortlessly adopt any rock styling that suited their current mood, and on this oddity, they embraced cocktail jazz with Weiland channeling vintage Burt Bacharach.
We'll never know what lyrics like"campfire girls make me feel alright" really means, but it suits this wonderfully strange yet beautiful song.
10. Wicked Garden-STP (1992)
One of the band's early hits from their début album Core with Weiland at his brooding best.
9. Lady Picture Show-STP (1994)
The band's homage to The Beatles is full of beautiful hooks and Weiland's angelic delivery.
8. Dead and Bloated-STP (1992)
Let's get past the morbidly fitting title and focus on what a badass tune this is: one of Dean DeLeo's mightiest riffs supporting Weiland's booming, megaphone filtered battle-cry.
7. Vasoline-STP (1994)
Many iconic 90's alternative tunes featured odd-time signatures, but Vasoline took it one step weirder, combining standard 4/4 drumming while the guitar and bass play in 3/4 time, but Weiland maneuvers the challenging arrangement with aplomb.
6. Crackerman-STP (1992)
Never released as a single, Crackerman became a live favorite, with a propulsive riff pushing Weiland ever onward as he howls Get away, gotta get away/And I think I think too much.
5. Creep-STP (1992)
The 90's were full of songs named Creep, but STP's deserves recognition as one of the band's loveliest, haunting compositions, full of Gen-X brooding at its finest.
4. The Big Empty-STP (1994)
The Crow soundtrack was a hotbed of great alternative songs, and Big Empty was no exception, with moody slide guitar and Weiland's evocative vocals elevating lyrics like: Smoke a cigarette and lie some more/These conversations kill-to grandiose levels of melancholy.
3. Sex Type Thing-STP (1992)
Mistaken at the time as a sexist anthem, Sex Type Thing was Weiland's lyrical response to the sexual assault of his high school girlfriend by members of a football team (as well as his own childhood sexual trauma). Disquieting subject matter for sure, but ultimately made cathartic thanks to the band's hard-charging delivery.
2. Interstate Love Song-STP (1994)
This fan favorite has massive classic rock hooks, and Weiland has never sounded better with his wistful delivery.
1. Plush -STP (1992)
Plush raised many questions upon its release: was Weiland ripping off vocalists like Eddie Vedder and Layne Staley? Was he also ripping off Vedder with his pained facial expressions in their music video? And what do lyrics like When the dogs begin to smell her, actually mean?
While we'll never know about the first two (although the band were obviously influenced by grunge) he did shine info on the lyrics to Rolling Stone.
But ultimately, it's what Plush feels like that matters: it's sorrowful yet life-affirming, melodic yet plodding, full of that dissonant middle-eastern flavored guitar borrowed from bands like Led Zeppelin.
But topped with Weiland's emotive, gut-busting vocals, it's one of the most notable anthems of the 90's, or any decade.
And it's one of many reasons he'll always be remembered as one of alt-rock's finest singers.
RIP Scott Weiland-October 27, 1967 – December 3, 2015
If you'd like to own any of these tracks, you can preview/buy via thew iTunes playlist below.