Alan Vega R.I.P: how the late musician influenced punk, New Wave, electronic music, alternative rock and more.
We've lost a lot of musical legends in 2016. And last night was no different: Alan Vega, one half of proto-punk/synth duo Suicide passed away in his sleep at the age of 78. While the ethereal crooner was never a household name à la the recently departed Prince or David Bowie, he's just as influential.
That's not hyperbole: he's even influenced the tastes of jaded hipster trolls annoyingly commenting "who?" on the Vega tribute pieces I've read today, unaware of the shadow he still casts over modern music.
Such is the price of being a trailblazer: the accolades don't start coming until you get old or pass away. But Vega influenced Punk, New Wave, Goth, Industrial, Alternative, Ambient, Trip-hop and more.
Vega born in 1938 (real name Boruch Alan Bermowitz ) was nearly 40 before getting into music. He had begun his career as a visual artist, but his life changed after seeing The Stooges in 1969. Inspired, he formed Suicide with fellow New Yorker Martin Rev in 1970.
Their use of primitive synths hooked up to guitar peddles created paranoid sound collages for Vega's tremulous fever dream narratives on songs like Ghost Rider off their 1977 self-titled début.
Their fidgety, diffuse sound channeled the urban decay and violence that plagued NYC at the time. Or as Vega said in an excerpt from Punk retrospective From The Velvets to the Voidoids: "People were coming in off the streets, coming into a performance arena where they were hoping they'd be escaping and all we were doing was shoving the street back in their face again."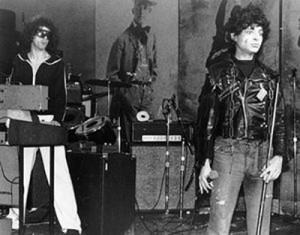 This created friction between performer and patron, even while playing with raucous acts like The New York Dolls at CBGB's. Vega was an unnerving stage presence, whipping a motorcycle chain while singing with a somnambulist gaze (think Travis Bickle as rock star). "We started getting booed as soon as we came onstage" he once said. "Just from the way we looked they started giving us hell already."
Suicide were the first band to describe themselves as punk on flyers in 1970, seven years before the term came into fashion. But they were also one of the first rock acts to use a synthesizer and drum machines, which stood in stark relief to Vegas's 50's style crooning. They were a hot mess too intense and overwhelming to be absorbed in one sitting. An acquired tastes perhaps, but one that rewards repeat listens.
Given this fact, commercial success eluded them. But Suicide's influence stretches far and wide: Bruce Springsteen covered their 1979 stunner Dream Baby Dream, transforming it from its primal underpinnings into a blue-collar hymn.
The Boss also confessed the lyrical inspiration for his crime confessional Highway Trooper was inspired by Suicide's most intense and frightening song Frankie Teardrop.
In that track, Vega weaves a chilling tale of a factory worker who kills his wife and child. Over 10 minutes of sandpaper sonics he continually ups the creep factor, his ever quivering voice eventually culminating into demonic wails.
It's a horror show of tune, and his screams are the like the shrieking cellos in the Psycho shower scene. It's so disquieting, that noted music critic Nick Hornsby wrote that it should be listened to "only once."
Beyond Springsteen, the list of Suicide's sonic disciples is impressive and diverse: Billy Idol has noted the group's influence on songs like White Wedding. Henry Rollins (who broke the news of Vega's passing) covered Ghostrider for The Crow soundtrack. The Car's Ric Ocasek was such a fan that he produced their 1980 sophomore album.
Vega also worked The Sisters of Mercy's Andrew Eldritch on a project called The Sisterhood, which set the stage for their breakthrough album Floodland. And just recently, post-punk revivalist Savages covered Dream Baby Dream.
Other artists who have fallen under Vega and Rev's spell include Ministry, Kanye West, U2, Sonic Youth, The Jesus and Mary Chain, Joy Division, MIA, Primal Scream, The Horrors, LCD Soundsystem and The Arcade Fire. And that's just scratching the surface.
It bears mentioning that Vega's output with Suicide (five studio albums) paled in comparison to his solo discography: 18 albums in full, as well as his work in modern art, which he never abandoned. But it's his volatile yet enduring tenure with Suicide that will forever ensure his legacy.
The world is still a beautiful yet terrifying place, and Vega and Suicide still provide the perfect disquieting soundtrack.
R.I.P. Alan Vega 1938-2016
Own Suicide's discography on Amazon: