Riot Fest Official 2014 Lineup Announced: Lollapalooza and ACL take note, THIS is a festival lineup.
Riot Fest has been going 10 years strong, as a mid-size music festival, but for its 10th anniversary that's about to change, because the official 2014 lineup isn't just their biggest yet, it's the best festival lineup this year. Period.
Headliners for the Chicago run of the festival will be Goth legends The Cure, and Lollapalooza founders Jane's Addiction. But wait, there's more! Also included will be Slayer, Samhain, Weezer, Wu-Tang Clan, The National, Cheap Trick, Mastodon, Flaming Lips, Afghan Whigs and the recently reformed Failure.
But wait, there's even more! Other notable acts include Buzzcocks, Mudhoney, Patti Smith, Superchunk, Pussy Riot, Social Distortion, Paul Weller, Gwar, Naked Raygun, Billy Bragg, Clutch, Wavves, and All.
The festival will also play in Denver and Toronto, so the lineup will vary slightly from city to city. I've included images for all 3 concert posters.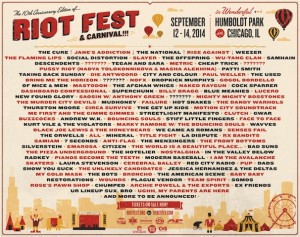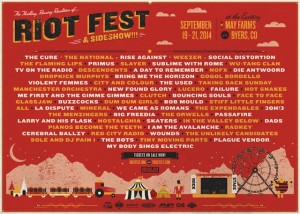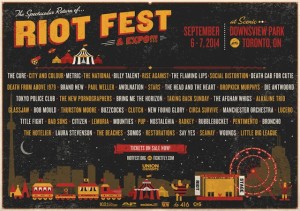 I had a chance to hit the 2012 Chicago Riot Fest, and it was one of the most pleasant (and affordable) events I've ever attended. It;s worth noting that prices for the festival have more than doubled, but given the sheer volume of notable acts it's not hard to see why.
Chicago's Riot Fest will run from Sept 12th-14th at Humboldt Park. Denver's will run Sept 19th-21st at Byers Farm, and Toronto's will run from Sept 6th-7th at Downsview Park.
Are you excited by the Riot Fest 2014 Official Lineup? Tell us in the comments.