Riot Fest 2015 Lineup Revealed: this year's formidable lineup includes Faith No More, Billy Idol, Iggy Pop and….oh just read the whole piece. There's a LOT.
Riot Fest has just announced their official 2015 lineups for Chicago, Denver, and Toronto. And just as in past years, they have proven superior to every festival held in North America.
Chicago has the biggest, and most formidable lineup, which will include three full album sets: Snoop Dogg (Doggystyle), Ice Cube (Straight Outta Compton remix), and Rancid (…And Out Come the Wolves).
But we're just getting started folks. Other BIG acts of note include: Faith No More, Iggy Pop, Billy Idol, Modest Mouse, Motörhead, Tenacious D, Echo and the Bunymen, No Doubt, Drive Like Jehu, De La Soul, L7, Thurston Moore Band, Eagles of Death Metal, Living Colour, Speedy Ortiz, Against Me!, Desaparecidos, Babes in Toyland, The Dead Milkmen, Anthrax, Swervedriver, the Damned, Lee "Scratch" Perry, Damian "Junior Gong" Marley, Gwar, Jimmy Cliff, Merle Haggard, Tommy Stinson, Bootsy Collins and a whole lot more which you can view below.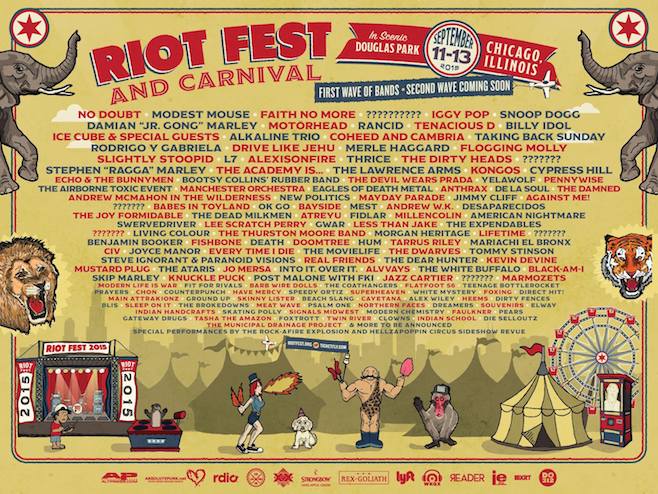 Denver's lineup will also include Snoop Dogg, Ice Cube, and Rancid's full-album shows, and will feature artists including: Run DMC, Iggy Pop, Pixies, Explosions in the Sky, Motörhead, Drive Like Jehu, L7, Babes in Toyland, the Damned, GZA, Eagles of Death Metal, Desaparecidos, De La Soul, Andrew W.K., Gwar, Swervedriver, and more.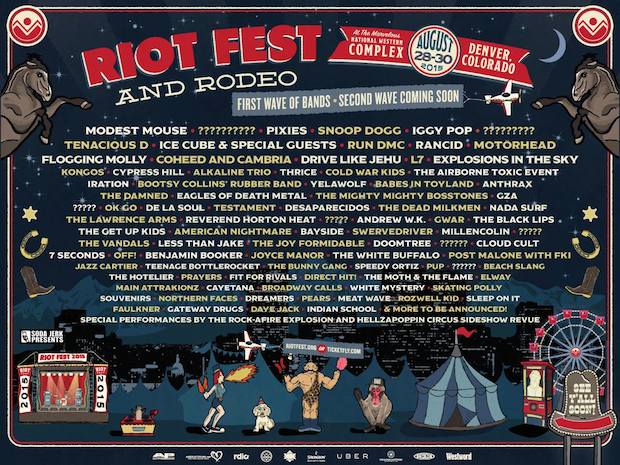 And Toronto's lineup will include Wu-Tang Clan, Tyler the Creator, Drive Like Jehu, Babes in Toyland, Andrew W.K., Eagles of Death Metal, Against Me!, Thurston Moore Band, Motörhead, Echo & the Bunnymen, and others (Rancid will be playing their full album set here as well.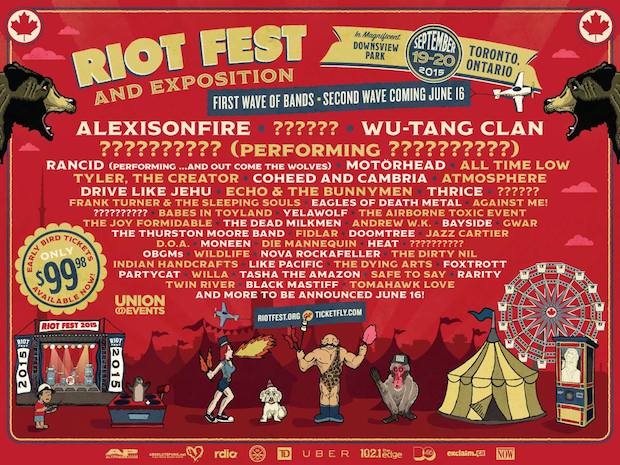 And as you can see, there are also several crucial ???? mark spots, so expect other high-profile acts to follow.
Riot Fest 2015 will run September 11-13 in Chicago, August 28th-30th in Denver and September 19th-20th in Toronto. Tickets are now on sale on the festivals official website.