Ride 'Weather Diaries' Review: shoegaze icon's dynamic and captivating reunion disc is well worth the wait. 
One of the most welcome musical resurgences of the past few years is the return of Shoegaze, that curious British-born genre that cultivated a small yet rabid fan base in the early 90's.
And of the most lauded bands from that scene was Ride, who emerged from Oxford England and took college radio by storm on the success of albums like Nowhere and Going Blank Again.
But their fortunes waned when Britpop took over as the UK alt-rock genre of choice, disbanding after their poorly received 1996 album Tarantula.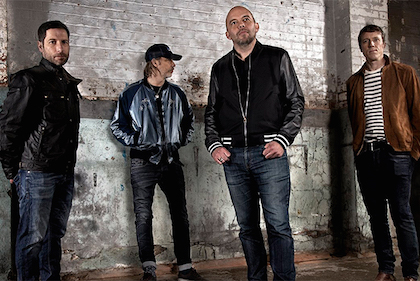 The group reformed to much acclaim in 2014, and are back with their new album Weather Diaries, their first release in 21 years (due out June 16th on Wichita Recordings). And like former Creation label-mates Slowdive, they've crafted one of the finest albums of 2017.
Things kick off with Lannoy Point, a buoyant airy number with New Wave guitar jangle and squiggly synth. It's an instant earworm which instantly reminds how the group effortlessly combine power pop melodies with post-punk atmospherics.
Weather Diaries might be the most overtly political album to emerge from a genre usually content to let the feedback do the talking: Charm Assault clearly takes aim at Brexit. Over garage rock power chords, vocalist Andy Bell delivers his acidic critique: Your charm assault/Has scarred the world/It looks so ugly/As your lies begin to unfurl.
Likewise, All I Want speaks of the dangers of repeating history in our current xenophobic landscape: It's not a pretty picture, this is 1932. Despite the caustic topic, Want is one of their most euphoric and dreamy numbers, punctuated by electronically altered vocals and swirling soundscapes.
Producer Erol Akin (aided by the band's longtime engineer Alan Moulder) brings his DJ background to Weather Diaries, and his production ably support the songs, with a balance between sparseness and lushness that fuels its strengths on songs like the whirring charmer Rocket Silver Symphony and the punchy Brit-poppish Later Alice.
Ride have always had way a melancholic ballads, and Weather Diaries doesn't disappoint: the title track is a bleak yet beautiful number, where Bell croons It seems you never know, which direction life will blow over diffuse guitar lines and oceanic synths.  Cali is another standout, conjuring a ghostly sparkling melody that rivals classic rock psychedelia.
The album closes out with two especially strong numbers, both sung by guitarist and co-vocalist Andy Bell. His yearning wail soars over the elegiac Impermanence and album closer White Sands, the most emotive song on the album. Over spiraling, Gothic guitar figures and cinematic flourishes, the group chart a choppy, churning course that reflects the album's elemental title.
In many ways Weather Diaries feels like the logical successor to Going Blank Again, while avoiding any direct gesture towards 90's nostalgia. The group have capitalized upon their legacy with a tempestuous, infectious listen that reflects our overcast turbulent times.  It's the perfect soundtrack for renewal amidst global anxiety.
Pre-order 'Weather Diaries' from Amazon: