Remembering Bill Paxton's New Wave Band Martini Ranch: a look back at the late actor's little-known musical career.
The death of Bill Paxton has sent shock waves through Hollywood and to his legion of fans. His untimely passing has put his memorable career into the spotlight, and a poignant reminder of his impact.
Generation X has been particularly stung by his passing: we grew up on Weird Science, Aliens and Near Dark during our teen years and True Lies, One False Move and Tombstone in college. This is just a small sample of his work. His impact cannot be underestimated.
But as a blogger who waxes poetic about alternative rock, I would be derelict in my duties if I didn't shine a little light on Paxton's other creative pursuit: he was a music video director, and had a New Wave band.
Yes, its true. Remember Fish Heads, that weird Barnes and Barnes music video that became a cult hit after being played on Saturday Night Live and MTV? Paxton was friends with Barnes member Billy Mumy (of Lost in Space and Twilight Zone fame), and co-directed and starred in the bizarre and hilarious music video.
Paxton was the one who pitched the clip to SNL, saying "Ultimately, I took it to New York, and I literally had to wait in the waiting room at Rockefeller Center for two days before anybody would even see me. And then finally they came out to take the 3/4-inch tape, one of those big honking f***ing things, and I started to get up with them to walk in the back, and they said, 'Uh, no, you stay here.' I was like Rupert Pupkin!"…and they came out five minutes later and said, 'Come on back, we want to put it on next week's show."
Paxton also had appearances in other notable music videos including Pat Benatar's Shadows of the Night and New Order's Touched By The Hand of God. He was a big fan of left-of-center music as well, as documented by a recent tribute from his friend, Suicidal Tendencies frontman Mike Muir.
Paxton finally indulged his musical passion with Martini Ranch, a New Wave act featuring himself and Andrew Todd Rosenthal. Their début (and sole) album Holy Cow was noteworthy enough to attract the attention of a major label Sire Records, who signed the group and released it in 1988 (if anyone reading this still has the Sire Records Just Say Yo sampler, their song Hot Dog is track #8).
Their début single, How Can the Labouring Man Find Time for Self-Culture? is a good primer for their sound, and the video (also co-directed by Paxton) featured Weird Science alum Anthony Michael Hall.
Fans of bands like Oingo Boingo, Wall of Voodoo and Devo should give the album a shot, it's a fun, infectious listen.
The group actually had ties to the latter act–Devo's Bob Casale produced the album (His band mates Alan Myers and Mark Mothersbaugh also performed on select tracks).
Other contributors included the B-52's Cindy Wilson, actor Judge Reinhold and new age musician (and film composer) Mark Isham.
And Bill's friend–filmmaker and longtime collaborator James Cameron even directed the spaghetti western inspired video for their track Reach. It's a hoot.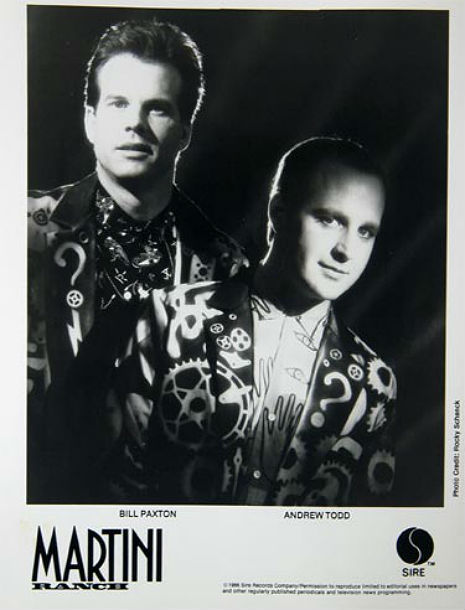 So as we grieve over the loss of Bill Paxton, and comb over his filmography to remember his gifts, check out Martini Ranch. It won't change your life, but it should bring a smile to your face. According to every account by his co-workers and friends, that was something he did with ease. And you can hear his enthusiasm in every musical note.
Bill Paxton, RIP.
Own Holy Cow on Amazon: