RIP Ray Manzarek; Enjoy in remembrance our mix of some of his best tracks with The Doors, his solo work, collaborations, and covers.
In a year that's already seen many musical titans pass, we've lost another legend, and that's the late Doors keyboardist Ray Manzarek, who passed away from cancer on May 20th at 74 years old.
Manzarek was a true musical revolutionary. When The Doors began making music in the 60's, keyboards weren't considered an essential component of rock music. He helped to change that. The Doors had no bassist, so his keyboards were both rhythmic and melodic, providing structure for guitarist Robby Krieger and drummer John Densmore to groove over. His ethereal organ playing meshed perfectly with Jim Morrison's vocals (Manzarek also sang vocals on some Doors tracks).
Love The Doors? Check out this awesome selection of authentic Doors apparel and gear from Rock.com!
In many ways the Doors were the first "alternative" band. They were more introspective and much darker than their predecessors or their peers, with a dark poetic take on rock. So it's fitting to pay tribute on this site, as they influenced many alternative and metal bands of the 80's and 90's including The Cure, Depeche Mode, Jane's Addiction, Danzig, and Echo And The Bunnymen.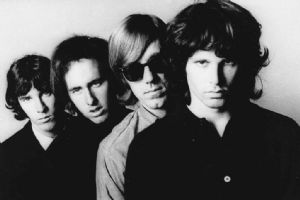 Manzarek appreciated this, and lent his production skills to punk band X, producing their early albums. He also played keyboard with Echo and The Bunnymen on both their "People Are Strange" cover (from "The Lost Boys") as well as their own trippy Doors influenced "Bedbugs and Ballyhoo."
Other collaborations induced playing keyboards on Prong's cover of "Strange Days" (click to hear it on my best covers list and click here for my recent Prong interview), and working with several artists on the "Stoned Immaculate" album, which covered Doors material. Manzarek played on many of those tracks, two of which featured The Cult's Ian Astbury on vocals.
This collaboration would prove fruitful as Asbury, Manzarek and Krieger toured as The Doors Of The 21st Century (drummer John Densmore boycotted the reunion and his lawsuit prevented their use of the original Doors moniker.)
In tribute to the late Manzarek, I've compiled an iTunes playlist, featuring his stellar work on Doors songs, his work with many of the aforementioned artists, some solo tunes, and even a collaboration with Weird Al Yankovic!
In addition, I've included several great Doors covers by bands like The Cure, Soundgarden, Duran Duran and more.
I've also included three YouTube links for songs that aren't available on iTunes, featuring Door's covers by John Lee Hooker and The Cult (both featuring Manzarek) and Siouxsie And The Banshees.
So enjoy these great tracks as we pay our respects to a master musician.
Rest in Peace Ray Manzarek, 1939-2013.
And here's an Amazon link for 'Stoned Immaculate'.
[amazon_image id="B00002R0K6″ link="true" target="_blank" size="medium" ]Stoned Immaculate: Music of the Doors[/amazon_image]