Queens Of The Stone Age Stream 'Like Clockwork' before its release next week via Mammoth Records.
UPDATED: Click here for my "…Like Clockwork"Review.
Today Queens Of The Stone Age announced they'll be streaming their new album "Like Clockwork," in full on iTunes one week before it's release on June Fourth. The stream will begin tomorrow, May 28th.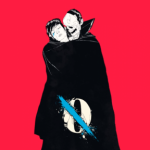 Love Queens Of The Stone Age? Check out this awesome selection of authentic Queens Of The Stone Age apparel and gear from Rock.com!
The hotly anticipated release is filled to the brim with guest musicians, including Elton John, Dave Grohl, Trent Reznor and Alex Turner, plus former bassist Nick Oliveri and regular contributor Mark Lanegan.
The announcement came via the band's official twitter page: "Dear world, starting tomorrow you can stream ALL of …Like Clockwork @iTunesMusic Get on in there. http://iTunes.com/QOTSA"
Last week the band performed all the tracks from 'Like Clockwork,' along with past hits, at a sold out performance at the  Wiltern theater in Los Angeles. Concert goers including Morrissey and Jack White. Click here to watch the entire performance on NPR.
While Grohl performed drums on the album, he (and Oliveri) won't be joining the touring lineup (who will be playing at both the Lollapalooza and ACL festivals this year. The current lineup is as follows:
Josh Homme, guitars
Troy Van Leeuwen, guitars
Dean Fertita, keyboards and guitars
Michael Shuman, bass
Jon Theodore, drums
So check out the stream tomorrow by clicking here, and you can pre-oder the new album on the iTunes or Amazon links below.
Thus far I've had a mixed reaction to the material I've heard online ("My God Is The Sun", "Keep You Eyes Peeled", etc). It feels a bit restrained from the harder sound that I and many fans were hoping for. Keeping an open mind (and ear) though.
[amazon_image id="B00C9U9YOW" link="true" target="_blank" size="medium" ]…Like Clockwork[/amazon_image]