Puscifer Announces 2015 Tour, 'Money Shot' Tracklist: band reveal North American tour dates and new album details. The touring lineup will feature former Ministry bassist Paul Barker.
Puscifer, the electronica driven group fronted by Tool and A Perfect Circle vocalist Maynard James Keenan, have announced a fall North American tour in support of their upcoming album Money Shot.
In a recent press release, Keenan stated: "As is the Modus Operandi of Puscifer, there will be a whole new show to accompany the Money Shot release. We've been leaving a few clues here and there as to what it may entail. As usual, we prefer to Show rather than Tell. Odds are if you've been a fan of the diverse nature of our performances in the past, you'll want to go ahead and place those bets."
The press release elaborates on the band's live show plans:
It's no surprise that Keenan choose to début the electro rock band-meets-comedy troupe on a Las Vegas stage (Puscifer's first shows were at The Pearl Theatre in the Palms Casino). In the intervening years, we've met a cadre of characters including Billy D and Hildy Berger, Major Douche, Peter Merkin and spent time around a campfire, with an Airstream trailer in the background, as audiences enjoyed a Sonoran sunset. Puscifer, who thrive on the element of surprise, have revamped their stage show, with no spoilers to share, we can only say it exceeds the production seen in recent outings.
In addition to Keenan, the touring lineup  will feature Mat Mitchell, Carina Round, Jeff Friedl, Mahsa Zargaran and most notably Paul Barker, formerly of industrial juggernauts Ministry.
You can pre-order Money Shot and receive an instant download of Grand Canyon via Puscifer.com. The album is due for release on October 30th, 2015.
The band have also released the full track listing and album cover for Money Shot which you can view below, as well as their recent video for Grand Canyon.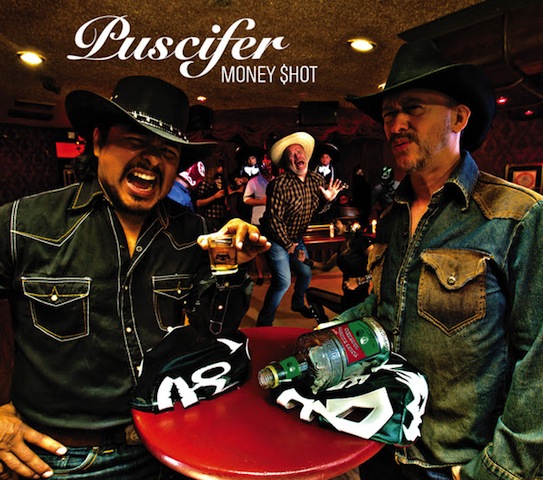 Money Shot track list:
1. Galileo
2. Agostina
3. Grand Canyon
4. Simultaneous
5. Money Shot
6. The Arsonist
7. The Remedy
8. Smoke and Mirrors
9. Life of Brian (Apparently You Haven't Seen)
10. Autumn
Tour dates:
November 1 Phoenix, AZ Monster Mash Festival
November 3 Dallas, TX Majestic Theatre
November 4 Austin, TX Bass Concert Hall
November 5 San Antonio, TX Tobin Center
November 7 New Orleans, LA Saenger Theatre
November 8 Atlanta, GA Cobb Energy Performing Arts Center
November 10 Charlotte, NC Ovens Auditorium
November 11 Bethesda, MD Strathmore Theatre
November 12 Boston, MA The Orpheum Theatre
November 14 New Haven, CT Shubert Theatre
November 15 Philadelphia, PA The Fillmore
November 17 New York, NY Terminal 5
November 18 Albany, NY Palace Theatre
November 20 Cincinnati, OH Taft Theatre
November 21 Chicago, IL Riviera Theatre
November 22 Kansas City, MO Arvest Bank Theatre
November 24 Denver, CO Bellco Theatre
November 25 Salt Lake City, UT Kingsbury Hall
November 28 Portland, OR Keller Auditorium
November 29 Spokane, WA INB Performing Arts Center
November 30 Calgary, AB Southern Alberta Jubilee Auditorium
December 2 Vancouver, BC Queen Elizabeth Theatre
December 3 Seattle, WA Paramount Theatre
December 6 Fresno, CA Warnors Theatre
December 8 Oakland, CA Fox Theater
December 10 Los Angeles, CA Ace Theatre
December 11 Los Angeles, CA Ace Theatre
December 12 Las Vegas, NV The Pearl at The Palms Casino
Grand Canyon video: