Prong's Tommy Victor Talks New Album 'X – No Absolutes': band's frontman gives the scoop behind the metal act's 12th studio album in our exclusive interview.
Following on the heels of 2014's Songs From The Black Hole, veteran metallers Prong return with their latest album X – No Absolutes (due out February 5th via Steamhammer/SPV).
The new release manages to provide their cult fanbase what they've come to expect, while adding new wrinkles to their unique mix of thrash, groove and industrial metal.
I recently had a chance to chat with band frontman/guitarist Tommy Victor who discussed the creative process behind X – No Absolutes, Prong's current lineup, and the group's 30th anniversary this year.
Enjoy the Q&A below:
SLIS: First off, I love the new album! I was curious if there was any overriding concept you had in mind when you began working on X – No Absolutes, lyrically or musically, or did it just come together organically?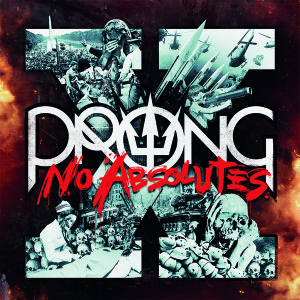 TV: Glad you like it. There was a deadline to get it done that I committed to, so we just got it done. The concept I guess was finding good riffs, lyrical themes and making decent songs. Then there's the production of the album, which has its minor challenges and decisions. In that case, there's a lot of manipulation to meet budgetary concerns.
SLIS: I'm always curious about your lyrics because they allow lots of interpretation. I noticed on Without Words, your lyrics share the title of the Norwegian Black Metal documentary Until The Light Takes Us. Did the film inspire the track?
TV: I had no idea of the film. I'll have to check it out! It's apocalyptic, in my case. It refers to the rapture. It's along the lines of "No Absolutes" which is about lack of control over where we are going individually and on a worldwide level.
SLIS: This album feels like your most musically varied to date: there's the classic Prong sound on tracks like Ultimate Authority, Cut and Dry and Worth Pursuing, but then you have songs like Do Nothing or With Dignity which is about as close as Prong has ever come to ballads and clean vocals. Did you have a goal of being more diverse, and is that why you worked with Erie Loch on some songs?
TV: At least on this record, yes. Erie is amazing and I love his ideas. We started working on the Primitive Race record and he just blew me away. I wanted more "real" songs on this record and he's got them! I love the way the collaboration came out. Chris Collier was initially scratching his head with the direction but then threw his heart and soul into making those songs happen. I owe a lot to those guys for making this record.
SLIS: The title track reminds me of 1996's Rude Awakening with its arrangement and industrial textures. Was that intentional and was it fun to revisit that industrial metal sound?
TV: Erie had the basic idea for the music and Chris and I just built upon it. We used some of Erie's programming, which is brilliant. We just 'Prongafied" the Erie idea, which I thought, yes, was in line with a Rude Awakening style song. I didn't want to totally abandon industrial metal with X- No Absolutes. I almost feel like someone has to keep doing this sort of stuff.
SLIS: Between last years Songs From The Black Hole and Danzig's Skeletons you've had a lot of recent experience covering other artists material: did any of that inspire songs on No Absolutes?
TV: I didn't notice during but looking back, yes. Especially with the vocals on X- No Absolutes. I had to interpret several different vocalists on Songs From The Black Hole. That may have broadened my eventual approach on the new record. As far as Skeletons goes, that's totally Glenn's deal. Working with Danzig is a completely different situation and I treat it that way and it doesn't come into Prong at all. I appreciate what GD does but Prong is a different animal.
Covering Neil Young's "Cortez The Killer" was motivational for me. That was a vocal challenge for me and Chris Collier and I built a method in making that vocal happen on Songs From The Black Hole and that definitely carried into X- No Absolutes.
SLIS: With drummer Art Cruz and bassist Jason Christopher, you have your most stable lineup since the Cleansing era, and you re-teamed with Black Hole producer Chris Collier on X – No Absolutes. How does it feel to have more continuity both in recording and performing vs. album/tours where the lineups shifted more drastically?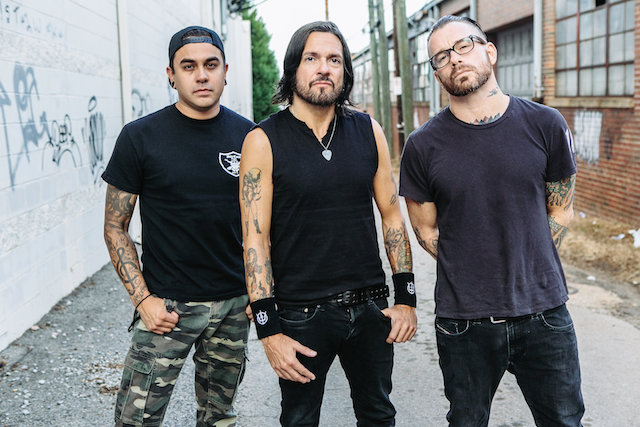 TV: I got lucky with those guys. This new Prong would not be the way it is without those guys, for sure. In retrospect, I've gotten lucky a lot in my career. There were a couple of occasions where I brought people in that screwed stuff up, but for the most part I've been blessed. But these guys are truly amazing.
I've never played in any band with a drummer better than Art. Jason is only second to the late great Raven. But Jason is amazing and he's clean and sober, which makes him even more of a top-notch player and person. Having those guys in the live line-up as well adds a lot of confidence in the project. Chris is on another planet. He's like an alien. He is the most overall talented guy I've ever been associated with.
SLIS: One of the most distinctive aspects of your sound is your guitar tone: Have you done any tweaking with that over the years or has that remained pretty much the same throughout?
TV: That's a great question and I don't think I've been asked that, ever. I could write a whole blog on what my approach to guitar playing is. Most guitar players would get upset with it. Ha! I like playing guitar, but I don't like spending a lot of time with it. I try to relax and I don't like tweaking.
Recently I played in this Dimebash thing where other guitar players were bringing their pedal boards and whatnot, down to jam. I just took a cable and plugged into a Marshall, not even messing with the knobs and I had fun. On the other hand, I keep up with the times. I don't like using classic amps and cabinets in the studio anymore. It's a waste of time for me.
I try to keep it simple, yet improve upon riffs; I don't like the riffs to be boring. I like solos but they have to be fun and lighthearted. Ultimately I still believe that guitar is an accompaniment to the vocals and the song. That's why I like old guys like Keith Richard and Iommi. Look at Dimebag, he was a shredder but he took that approach as well.
SLIS: You've been very prolific lately: four studio albums in five years, and that's not even counting your work with Danzig. How do you split your duties so efficiently time management wise, and do you find both projects feed creatively into the other as far as your personal inspiration is concerned?
TV: Well. I've also worked on Primitive Race and am doing a side project as well. And I still have a lot of time to fool around and kill time with friends at a Denny's or play video games or go running and hiking or watching the Jets lose.
Like I said, working with Danzig is a completely different situation and it doesn't come into Prong at all. Primitive Race was cool because I met Erie and that fed into my psyche. Listen, we spent 2 years working on Rude Awakening and about 4 months on X– No Absolutes. Music and lyrics start to get watered down and weird if you overwork.
SLIS: This year marks a milestone for Prong: your 30th anniversary. I know in a recent interview with Full Metal Jackie, you didn't state any specific plans to celebrate your legacy, but on a personal level, what are your proudest moments in Prong's history? How do you feel like you've evolved over the years?
TV: Not to act like some guru or something, but I try to avoid pride like the plague. It's too dangerous for a person like me. I'll start believing bullshit about myself and start treating people badly. Everything I have has been given to me, especially when it comes to Prong. Based on my attitude, this should have been dead in the dirt a long time ago.
So actually the best moment for me in my career is right now, doing this interview with you. Everything else is bullshit. Who cares? The past is the past–it doesn't exist anymore.
SLIS: I think that wraps up all my questions: is there anything you would like to add for fans regarding the new album and upcoming tour?
TV: We have a lot of touring coming up. Say hello! Our dates are posted on our website. www.prongmusic.com. Check out our Twitter- prongmusic. Instagram – prongtheband. Like us on Facebook… PRONG!
Thanks to Tommy for taking the time out for this interview. You can pre-order Prong's X – No Absolutes via iTunes or Amazon below.