Prong 'Zero Days' Review: Tommy Victor and co. continue their workaholic output on angst ridden new release. 
Prong have been on a prolific streak in the 2010's. In the past 6 years, the metal veterans have released no less than four albums (including last year's superb effort X (No Absolutes).  And now the group, led by vocalist/guitarist (and sole founding member) Tommy Victor return with Zero Days (out July 28 via Steamhammer/SPV).
Zero Days (produced by Victor and frequent collaborator Chris Collier) continues their momentum, kicking off with the dystopian furor of However It May End (a wonderful title to start off the album). It's a blast of classic thrash, with Victor railing against modern malaise in his inimitable fashion.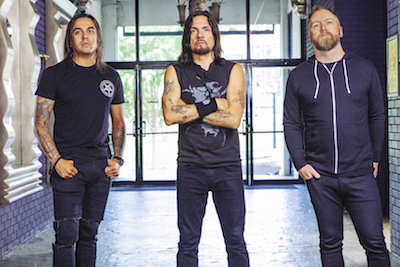 The slice and dice title track is another salvo of vintage Prong with one of Victor's most melodic, harmonized solos and lyrics of 21st century discontent: Zero Days/Out of options…It's time to turn it back/it's time to reset the clock/It's time for the acknowledgement that it's all for nought. 
Off The Grid is a survivalist anthem mixing thrash and groove metal, while the shredding Forced Into Tolerance (the heaviest track of the album) features some of Victor's most aggressive lyrics: I don't care if you insist…don't fucking tell me that it is what it is!
Prong offer plenty of variety on Zero Days, and offer several melodic tracks as well, including the single Divide and Conquer, featuring a hook-driven chorus and clean vocals that makes for an instant earworm.
Blood Out of Stone is another example, and it's one of the groups' catchiest anthems to date, with a melodramatic arrangement highlighting Victor's emotional lyrics reflecting our divisive modern era: Exploring the problematic/always unsympathetic/crawling I'm only human, drawing the same conclusions.
Victor indulges his love of Killing Joke towards the end of the album on three notable tracks, kicking off with Rulers of The Collective, a brooding, Goth-inflected number (which also recalls the title track of Prong's 1995 album Rude Awakening), followed by Compulsive Future Projection which adds dissonant chords and tribal drums to dramatic effect. The last track, Wasting of the Dawn, ends on an unsettling, yet riveting note, perfectly encapsulating an album rife with internal and external conflict.
While Zero Days doesn't quite the reach heights of predecessor X (No Absolutes) (one of the group's best outings to date), it's a fierce and satisfying reminder of why Victor is one of the most underrated and talented musicians in metal. If we are indeed living in Zero Days, Prong have crafted the perfect soundtrack for our encroaching apocalypse.
Buy Zero Days on Amazon: