The official 2015 lineup for Barcelona, Spain's Primavera Sound has been announced, and it's a very interestingly eclectic mix of musical genres as well as current and classic acts.
It's also way better than the rather unimpressive respective lineups of this years Coachella and Bonnaroo music festivals.
So let's dive in shall we?
The recently resurrected Sleater-Kinney , The Black Keys, Run The Jewels. Belle and Sebastian and The Strokes are the most high-profile names on the list, but things get even more interesting for veteran and second-tier acts. One of my favorite bands, Australia's The Church will continue their acclaimed promotion of recent album 'Further/Deeper' with an appearance as well. And the recently reformed Dream-pop group Ride will also be performing.
Other acts worth noting include the following: The Replacements, Underworld (performing dubnobasswithmyheadman), Death From Above 1979, Spiritualized (who will also be playing Austin's 2015 Psych Fest), Swans, Sunn O))), Einstürzende Neubauten, The Thurston Moore Band, DIIV, Pallbearer, Jon Hopkins, (the also recently reformed) Babes in Toyland, and Shellac.
Young hipsters will freak over the following: Twin Shadow, Iceage, The Juan MacLean,
Ariel Pink, Mikal Cronin, Foxygen. Ought, Mineral, alt-J, Tyler, the Creator, (the also just reformed) American Football, Shabazz Palaces, and Tobias Jesso Jr.,HEALTH, Thee Oh Sees, and Single Mothers.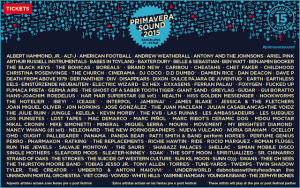 Whew! My hands are tired. Note this is just a small smattering. To see the full lineup click here for the official Primavera Sound website.
The 2015 installment of the Primavera Sound festival will be held from May 27th-30th in Barcelona, Spain.