Poll Results: Top 10 Alternative Rock Bassists As voted for by you!
The results for our Best Alternative Rock Bassists Poll  are in!
I've compiled a list of the Top 10. There were several ties; entries 10-8 were tied at 3%, 7-6 at 4% and 5-4 at 5%. For tied entries I listed in reverse alphabetical order rather than play favorites.
Here we go!
10. Billy Gould 3%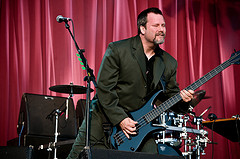 The Faith No More bassist offers pummeling riffs that straddle the line between funk and metal, giving them a crucial grove that makes them unique.
9. Flea 3%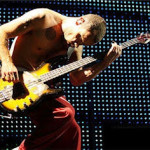 The Red Hot Chili Peppers bassist has long been considered a virtuoso on the 4 string, so its little surprise he'd make this list (check out their recent Coachella set).
8. Kim Deal 3%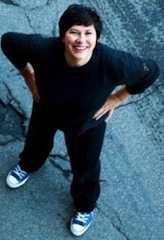 Deal's bass lines are usually hummable making her sound one of the Pixie's sonic hallmarks.
7. Eric Avery 4%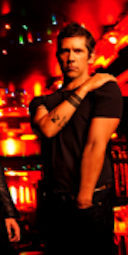 There's a reason that Jane's Addiction's last two albums aren't as popular as their early work, and that's due to Avery's absence. His lumbering yet melodic style is just as crucial to their song structure as Dave Navarro's muscular riffing, and he's sorely missed. Lucky for NIN though, as he has recently joined Reznor and co.
6. Les Claypool 4%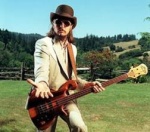 Claypool's style is unique; he never goes for rudimentary rhythms, but plays front and center. His sound conjures tones of  jack hammers and stalled cars making Primus one of the most original bands in rock.
5. David J 5%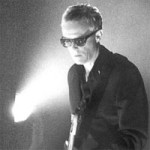 Sensual, hypnotic, leathery and foreboding. J's dark and brooding style encompasses all these textures in his work with Bauhaus and Love & Rockets.
4. John Taylor 5%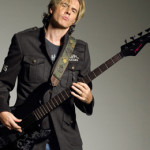 Duran Duran's bass player has claimed disco band Chic and punk legends The Sex Pistols as his two primary influences, and it shows. Always funky with a decadent snarl, he gave the band a groove that their other new wave contemporaries often lacked. His work in The Power Station is worthy of mention too.
3. Simon Gallup 6%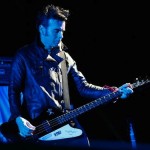 Gallup's atmospheric, dark spectral tone is one of The Cure's sonic hallmarks. He can offer playful high note interplay or funeral spidery textures. He's the Cure's secret weapon.
2. Peter Hook 11%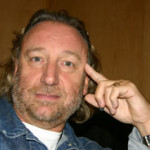 Hook's playing was a revelation. Through Joy Division to New Order, he redefined what a bass could sound like. Not content with playing 2nd fiddle to the guitarist, his melodic bass lines took the territory normally reserved for guitar riffs and solos. It's this novel approach that made both band's sounds so groundbreaking.
Check out New Order at this years Coachella (sans Hook, who left the band on bad terms.)
1. Steve Kilbey 33%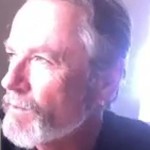 Given the amount of Kilbey fans this blog attracts (read my recent interview), it should come as no surprise that he would prove popular, and he won in a landslide.
Kilbey's style plays off harmony and dissonance. He can provide minor key unease or ambient bliss, making one of the most unique and singular bassists to grace rock and roll.
So that wraps up your Top 10 choices.
Trailing the end in the poll were Kim Gordon and Colin Greenwood (both at 2%), and Adam Clayton, Sean Yseult, Trevor Dunn, Tim Commerford, Paul Raven, Mark King, Chris Wolstenholme, Jeff Ament, Justin Chancellor, Robert Deleo, and Krist Novoselic, who all came in at 1%.
So thanks for voting and feel free to sound off on your choices below.
I'm also curious about the 7% who voted for 'entry not included'. Who do you feel was unfairly ignored?