Peter Hook and The Light Live Album Series Review: former New Order and Joy Division bassist revisits his past in blazing concert releases.
When Peter Hook left New Order in 2013, it felt like the end of an era: his melodic, unorthodox bass-playing was in many ways their most definitive element–how could the band survive without him–and what project would he take on without them?
While fans began drawing battle-lines in the sand (and litigious issues emerged), things worked out relatively fortuitous for both: New Order released the largely well-received 2015 album Music Complete, while Peter Hook formed the group Peter Hook and The Light, performing classic New Order and Joy Division albums in their entirety along with rarities and singles towards the end of each set.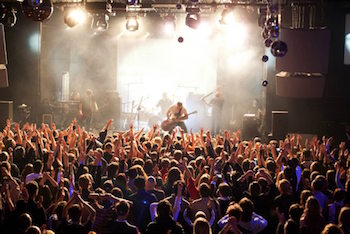 And now four of those performances have been released as a series of live albums (via Westworld Records), to give those who haven't had a chance to catch The Light live some pristine sonic snapshots.
The albums includes concert recordings of Peter Hook's band (featuring his son Jack Bates and former Monaco cohort Paul Kehoe) playing Joy Division's Unknown Pleasures and Closer (the latter recorded in his native Manchester at The Factory, named after Joy Division and New Order's former record label), along with New Order's Movement and Power, Corruption and Lies.
Overall all four albums feel quite solid, with the Joy Division material the most impressive. That's due to Hook's vocals which are at times hauntingly close to the late Ian Curtis.
The Unknown Pleasure album standouts include the jittery Digital and a rip-roaring rendition of Transmission. New Dawn Fades is another song of note, full of doomy grace. Atmosphere and Colony are two other standouts, with vocal duties performed by (ex-Happy Mondays vocalist) Rowetta.
The Closer set feels more raucous, with Hook offering playful banter with his hometown audience and featuring a harrowing performance of Dead Souls and a euphoric take on Ceremony.
The New Order material (both albums were performed in Dublin) stands out in starker relief: Hook's vocals on classic songs like Leave Me Alone (featured on the Power, Corruption and Lies recording), add a gruffness miles away from Bernard Sumner's schoolboy croon.
Likewise Blue Monday and Temptation acquire a bar band bluster with Hook's more guttural delivery, which may surprise at first, but works quite well in a live setting.
All four albums have solid sound mixes–rarely allowing for any muddy sonics. Audience participation is heard but never overpowering, allowing an ideal balance to make you feel like you're hearing a live show in a good seat.
All said and done, the four Peter Hook and The Light releases will please New Order and Joy Division diehards who need their Hooky fix. His bass-work is upfront in all its elastic, anthemic glory–still one of the most original and compelling elements in rock.
Own it on Amazon: