Peter Hook and The Light Give Details For Live Album Series: Bassist announces tracklists for four concert albums featuring New Order and Joy Division material. 
Iconic New Order and Joy Division bassist Peter Hook is set to release four-albums of concert recordings on May 5th.
The releases (available on CD and for digital download), features Hook and his band The Light performing classic Joy Division and New Order albums in their entirety, including Unknown Pleasures, Closer, Movement and Power, Corruption and Lies, along with renditions of select singles, demos and rarities. Click here to preorder.
The albums will also be released as deluxe limited edition colored vinyl (via Let Them Eat Vinyl records) for Record Store Day 2017  (April 22nd).
So check out the press-release notes with full track-listing album art for all four releases below, along with the band's 2017 U.S. tour dates.
Hook and company's performance of Joy Division's Unknown Pleasures was captured at Leeds' Cockpit, November 29, 2012.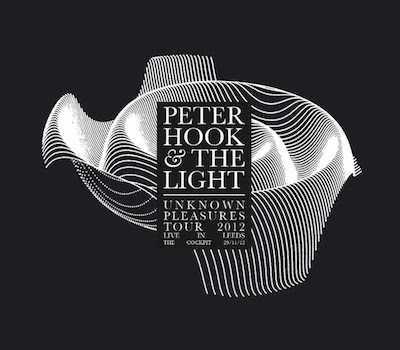 TRACKLIST
CD1
1.Dead Souls
2.No Love Lost
3.Leaders Of Men
4.Digital
5.Disorder
6.Day Of The Lords
7.Candidate
8.Insight
9.New Dawn Fades
10.She's Lost Control
11.Shadowplay
12.Wilderness
13.Interzone
14.I Remember Nothing
CD2
15.Atrocity Exhibition
16.Heart And Soul
17.A Means To An End
18.The Eternal
19.Something Must Break
20.The Drawback
Hook and The Light's reading of Closer was documented at The Factory in Peter and Joy Division's hometown of Manchester, May 18, 2011.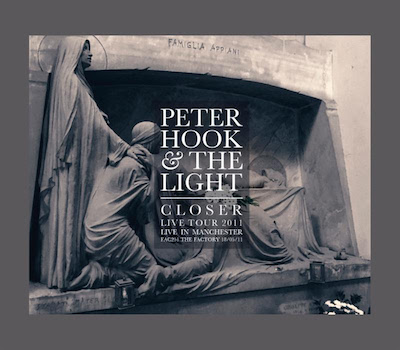 TRACKLIST
CD1
1.Incubation
2.Deadsouls
3.Autosuggestion
4.From Safety To Where…?
5.Atrocity Exhibition
6.Isolation
7.Passover
8.Colony
9.A Means To An End
10.Heart And Soul
CD2
11.Twenty Four Hours
12.The Eternal
13.Decades
14.These Days
15.Ice Age
16.Novelty
17.Transmission
18.Atmosphere
19.Warsaw
20.Failures
21.Love Will Tear Us Apart
The live celebration of Movement, the first studio set the former Joy Division members did as New Order, took place November 22, 2013 at The Academy in Dublin.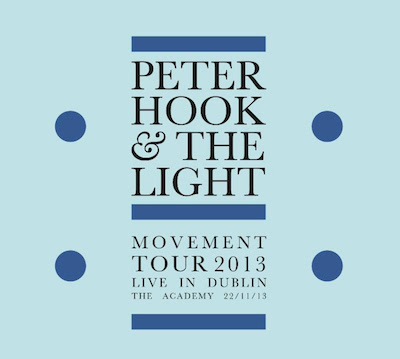 TRACKLIST
1.Incubation
2.Autosuggestion
3.Passover
4.She's Lost Control
5.The Drawback
6.Wilderness
7.Atrocity Exhibition
8.Ceremony
9.Procession
10.Dreams Never End
11.Truth
12.Senses
13.Chosen Time
14.ICB
15.The Him
16.Doubts Even Here
17.Denial 4:15
18.Cries And Whispers
Hook and The Light's take on New Order's next release, the much-vaunted Power, Corruption & Lies was recorded on the same occasion as Movement.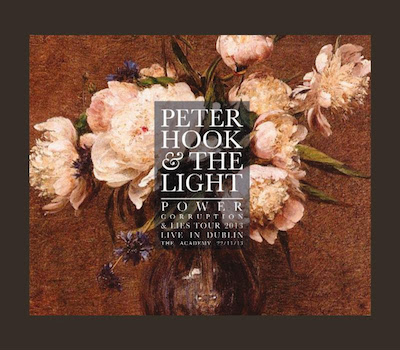 TRACKLIST
1.Everything's Gone Green
2.Age Of Consent
3.We All Stand
4.The Village
5.586
6.Your Silent Face
7.Ultraviolence
8.Ecstasy
9.Leave Me Alone
10.The Beach
11.True Faith
12.Temptation
13.Blue Monday
14.Love Will Tear Us Apart
Peter Hook & The Light U.S. Dates:
April 28th – Berkeley, CA The UC Theater (The Light – Substance)
April 29th – Denver, CO (The Light – Substance)
April 30th – Fortress Festival, Fort Worth, TX (The Light – Hybrid Set)