My Bloody Valentine's Loveless Turns 25: my recollection of pissing off MVB's frontman.
November 4th marks a significant date in alternative rock history: the 25 anniversary of My Bloody Valentine's 1991 shoegaze epic Loveless.
At this point it's hard to give any more insight into why Loveless was so impactful: its sonic wizardry, the glide guitar technique that was both beautiful and dissonant. Male and female vocals that blended together in an androgynous whir.

While it was never a huge seller, Loveless inspired a rabid cult following, proving deeply influential to many other acts who feverishly attempted to approximate its diffuse, narcoleptic grandeur.
There's also the behind-the-scenes facts that adds to Loveless's legend: how the long recording process (nearly three years) helped bankrupt Creation Records, as Shield and his bandmates (Belinda Butcher, Debbie Googe and Colm Ó Cíosóig) chewed through reels of tape to chase the elusive sound they heard in their heads.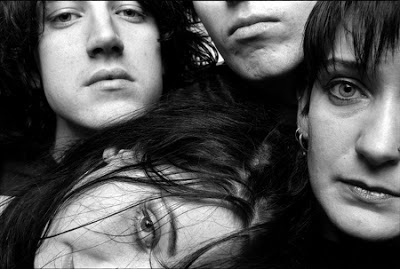 Adding to Loveless's mystique was the crippling anxiety and writer's block Shield felt while working on a follow-up, with the group exploring everything from jungle beats to groove metal to expand their sound.
It would take 22 years for their third album (2013's MBV) to materialize, much to the orgasmic glee of diehard fans, who had given up hope of any new material. Even so, the legacy of topping Loveless seemed impossible to attempt. That MBV was as good as it was (if not earth shattering), showed that time hadn't dulled their powers.
I saw Shield perform with Primal Scream on their 2000 XTRMNR tour, and his contribution to the Scottish alt-rockers album was considerable: XTRMNR was the band's best album: a collision of shoegaze, techno, krautrock, free-jazz and more, heightened by Shield's production skills and scorching guitar soundscapes. It was thrilling to see him involved in something so powerful and vibrant after My Bloody Valentine's dormancy.
The live set was equally impressive, culminating in an encore of The MC5's Kick out the Jams. The small but ecstatic crowd was spent and jubilant. And the band were in good spirits, inviting fans to chat as their set was being broken down.
I had imbibed in some cocktails throughout the show. Too many in retrospect. But a sound as chaotic and euphoric as the Scream, lends itself to being, well "loaded" ( see what I did there?).
After speaking to frontman Bobby Gillespie and bassist Mani (Mounfield–of Stone Roses fame), I saw Kevin Shields relaxing with a beer. I sidled up to compliment him on the set. He was polite if not overly friendly, and for some reason his silence put undue pressure on me to ask a question.
From my vodka soaked lips, my moment of genius emerged: "So when's the next My Bloody Valentine album coming out?"
WTF? Why would I ask the most obvious question in the world…the one that the poor guy had probably heard every day after Loveless hit the pop culture consciousness? I don't know why folks. I guess I just choked.
He looked up at me with a look of resignation and mild irritation, and said "I'm working on it man."
My deer-in-the headlights expression must have been readily apparent, given I didn't know what to ask next, and realizing I had messed up, I just took another swig of my drink. But Shield's annoyance with my blank expectant face became apparent: "Hey man, look, I'm FUCKING working on it ok!"
He then ran his hands through his hair in an anxious huff, addled and looking somewhat sad and deflated. Mani looked over and began chuckling, surely having heard this line before, and I felt like a moron.
After the band left, news broke that they nearly got in a barroom brawl, followed by trashing a local music critic's loft. This was in their drug-fueled days mind you, but I wondered if I had set him off.
Needless to say, all the interviews I conduct now are done stone cold sober, with a question sheet to offset any nerves from being starstruck (it's working out pretty well thus far).
Embarrassing encounter aside, I'm just happy that he and his bandmates gave us Loveless. 25 years later, it still sounds like a dream crafted by aliens, hitting notes of emotion and aural pleasure that have never been massaged the same away before or since.
Shields may move at a snail's pace, but he's left a legacy that more prolific artists will never match, leaving his fans so dumbstruck they ask stupid ass questions.
Maybe one day I'll get a chance to interview him and get it right this time. I'm working on it okay?!?
Own MBV's Loveless on Amazon: