Movie Review: Dave Grohl's documentary "Sound City", is a love letter to an iconic music studio and organic musicianship.
Alt-rock icon Dave Grohl recounts Nirvana's recording studio sessions for Nevermind in his new documentary (and directorial début) Sound City. After hearing all the hype about the legendary studio, his first reaction was underwhelming: "The place was a little more f—ed up than I thought it should be."
This humorous aside sets the tone for this enjoyable film about the Los Angeles recording studio that put out a staggering amount of iconic albums in various genres.
By everyone's account, the place was a dump. One producer noted:  "I could piss in a corner and no one would complain."
And the amazing acoustics the studio produced seemed to be a happy accident. Interviewees noted that on paper the studio's design wasn't an ideal recording space. It sounded good in spite of itself.
It's secret weapon was the NEVE soundboard, an elegant beast that was one of only 4 custom ordered from the British engineer of the same name; Neil Young called it "the U.S.S. Enterprise on steroids."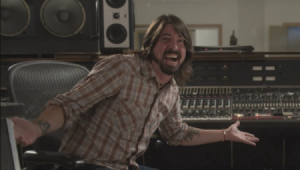 The interview between Neve and Grohl is hilarious. The British studio wiz waxes poetic on the board's technical aspects while Grohl smiles and nods, with subtitles like "he must know I'm a high school dropout right?"
What makes the movie compelling is the vast amount of recollections by a staggering array of musicians and legendary producers of various genres. Rage Against The Machine,  Ratt, Frank Black, Johnny Cash, Fear, Rick Springfield, Dio and Nirvana, are just a few of many that provide insight.
It's also filled with trivia that'll thrill music geeks. I learned that Stevie Nicks and Lindsey Buckingham joined Fleetwood Mac while meeting their future bandmates at the same studio.  And Producer Butch Vig made Grohl play to a click track on "Lithium" to keep the tempo straight, much to the drummer's chagrin.
The staff provided their own invaluable input; female staffers would provide backing vocals. And night manager Paula Salvatore would give creative feedback. Her affirmation proved invaluable to Tom Petty; "her approval could lift my whole day." (She also inspired countless crushes; REO Speedwagon's Kevin Cronyn was especially smitten).
The story gets emotional as the studio closes due to the one-two punch of internet downloading and inexpensive digital home recording.
Queens of The Stone Age frontman Josh Homme notes that while the internet offers vast conveniences, " there's no book stores, no music stores and no Sound City."
Grohl buys the Neve board, and forms the Sound City Players, jamming with various musicians from the studio alumni.
Grohl, Homme and Trent Reznor record a moody track.  Steve Nicks belts out a gravelly mantra. And Grohl and his Nirvana band mates back up Paul McCartney, playing "Cut Me Some Slack", which sounds like "Helter Skelter" on steroids.
The most unlikely collaboration has them backing Rick Springfield. But it sounds genuinely inspired (Springfield plays a huge role in the Sound City story).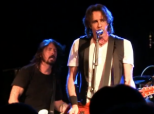 You have to wonder if Kurt Cobain were still alive, how he'd feel about jamming with Springfield? We can only surmise if the artist who railed against commercial rock, would've mellowed with age. Grohl has no such hangups. He's just a nice, very talented dude who wants to rock out, and everyone's invited.
*Read my commentary on the  recent 19th anniversary of Cobain's suicide.
"Sound City" chronicles not just an amazing studio, but the pursuit of musicianship in an era where artists couldn't rely solely on technical wizardry. It illustrates that imperfections make character, and musicians can lose their identity by digitally scrubbing out every mistake.
Trent Reznor, the artist who used technology as experimentation and not a crutch, provides the connective tissue for the analogue to digital era and leaves a killer soundbite:
"The tools are better, better today then they were 5 years ago, certainly 30 yrs ago …but now that everyone is empowered to create stuff has their been a lot more great shit coming out? …Not really"…"you should really try to have something to say."
I'll be looking forward to the Sound City Players album and hopefully catching them at SXSW if possible.
You can rent or own Sound City via iTunes or Amazon by clicking on the appropriate links below, as well as pre-order the album by the Sound City Players, which will be released March 12th.