Monster Magnet 'Cobras And Fire (The Mastermind Redux)' Review: frontman Dave Wyndorf blasts off on a magic carpet ride with this wild and wooly re-imagining of band's 2010 album Mastermind. 
When I spoke to Monster Magnet frontman Dave Wyndorf earlier this year regarding Milking the Stars, the band's re-imagining of 2013 album Last Patrol, he mentioned he was applying the same psychedelic makeover style to his 2010 album Mastermind, but noted: it was more difficult because the material wasnt as interesting. But its weird!
While I feel he's being too harsh re: the former, he certainly got the latter part right about the band's latest album Cobras And Fire (The Mastermind Redux) (due out October 2nd on Napalm Records). He's reshaped that record from its lean doom-metal sound into a full on garage-rock freak out that goes even more over-the-top than Milking.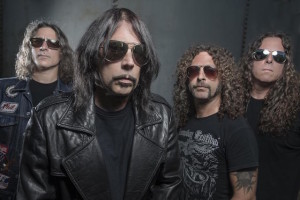 He takes the Mastermind title track and runs it through an Iron Butterfly/Strawberry Alarm Clock filter, sand-blasting the former lean hard rocker with sitar shade and Hammond organ swirls.
He does a similar nifty trick on Hallucination Bomb, making it live up to its name with atmospheric space-echo guitar and moody Mellotron. Its trance inducing bliss.
Wyndorf strips the vocals from The Titan Who Cried Like A Baby (now rechristened as The Titan), which gives it an even moodier sci-fi cinematic quality that makes a nice midway-interlude.
The band revisit their raunchy Powertrip era sleaziness on She Digs That Hole, a revision of Mastermind's Dig That Hole, retrofitting it with new lyrics such as: Her name is Cobra and she's my porno wife and On a mountain of poon/By the light of the moon. The best Monster Magnet songs make you chuckle while you rock out, making this one of the album's highlights.
In addition to the remixed Mastermind tracks, Wyndorf and co. drop in some extras as well. Watch Me Fade is a new track that recalls the organ-driven Dead Christmas from 1995's stoner epic Dopes to Infinity.
The group also cover The Temptations ever timely Ball Of Confusion, and while it can't match the iconic 1985 switch blade sharp version by Love and Rockets, it has a ramshackle Stooges vibe that goes down nicely.
But the craziest track has to be I Live Behind the Paradise Machine: Evil Joe Barresi's Magnet Mash Vol.1, which is a remix of Milking The Stars' No Paradise For Me, which in itself is actually an alternate version of Last Patrol's I Live Behind The Clouds (are you still with me so far?).
Wyndorf twist and turns the fabric of the song through so many crazy astral plane washes of sound that it could give a hippy such epic acid flashbacks that they'd need to be checked into a psych ward. Groovy shit indeed.
Whether casual Monster Magnet fans want to take a Mastermind double-dip is left to conjecture, but diehards will surely have a blast with Wyndorf's mad scientist approach to remixing one of his more straightforward albums.
The Monster Magnet frontman also stated in my interview that Cobras and Fire was all about: Turning things inside out. Not just like an unplugged situation, but truly odd….I seem to be searching for odd as we go on. Odd is interesting.
And Cobras and Fire is most definitely, wonderfully, interestingly odd, which makes me all the more excited for how crazy their new full-length original album will sound.
You can pre-order Monster Magnet's 'Cobras And Fire (The Mastermind Redux)' via Amazon and iTunes below: