Minor Victories Album Review: alternative supergroup excels on exciting début.
Let's face it: supergroups are usually more exciting in theory than in practice, failing to live up to the grand expectations raised when noted musical personalities collide.
But Minor Victories, featuring Slowdive vocalist Rachel Goswell, Mogwai guitarist Stuart Braithwaite and Editors' Justin and James Lockey lives up to their name on their excellent self titled début (due June 3rd via Fat Possum Records), proving the exception to the rule.
Opener Give Up The Ghost sets the album's sultry tone, with Goswell's angelic vocals riding atop trip-hop sonics with Gothic overtones.
Single A Hundred Ropes evokes the haunting soundtracks of John Carpenter, before adding elements of strings and discordant guitars for a song as unusual as it is striking.
There is a decidedly retro vibe on Scattered Ashes, featuring Phil Spector-esque cavernous wall of sound percussion and the dual harmonies of Goswell and guest vocalists James Graham (The Twilight Sad), resulting in a deeply soulful track.
Folk Arp is the crown jewel of the album; a gorgeous rush of chiming guitars with Goswell at her most ethereal. It's also the most defining track, splitting the difference between the member's primary gigs into a triumphant swell that reaches a climax that also draws comparisons to Sigur Ros and Explosions in the Sky.
If there's one descriptor for the album, encompassing it's evocative layers of sound and dusky lyrical imagery it would have to be "cinematic", be it Breaking My Light's brooding soundscapes or the hypnotic xylophone-driven Thief.
For You Always is the sole love it or hate it moment-an oddly paced indie duet featuring Goswell with Sun Kil Moon's Mark Kozelek, with rushed vocals that belie its engaging tale of star-crossed lovers.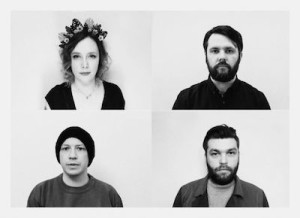 While on the topic of vocals, it's worth noting that Goswell's sit higher in the mix than her other projects, and the music is the richer for it, featuring some of her most powerful and moving work to date.
While their sound is primarily understated and down tempo,  they also know when to let loose: Cogs is a glorious bit of shoegaze furor, while Higher Hopes veers from atmospheric electronics to a cacophonous climax of obliterating sand blast guitar.
What makes Minor Victory's assured début all the more impressive, is the album's online construction, with each member submitting recordings via email.  Their  chemistry is so palpable, and the sound so fully formed that it feels like a veteran effort rather than a newbie project.
The end result is one of the most engaging releases of the year, an unexpectedly welcome surprise that one hopes can be more than just a one-off and survive each member's busy schedules.
You can pre-order Minor Victories via iTunes and Amazon below. Click here for full tour dates and ticket info: