'Mad World' Book Review: New Wave fanatics will eat up all the nostalgic tidbits in  'Mad World: An Oral History of New Wave Artists and Songs That Defined the 1980s'
Both obsessive and casual 1980's New Wave fans will have much to enjoy with the new book 'Mad World' by 80's veteran music journalists Lori Majewski and Jonathan Bernstein.
It's a breezy 320 page jaunt into some of the most notable bands and songs from the John Hughes-era.
[amazon_image id="1419710974″ link="true" target="_blank" size="medium" ]Mad World: An Oral History of New Wave Artists and Songs That Defined the 1980s[/amazon_image]
The concept is simple; each chapter is devoted to a singular 80's track, with first-hand recollections by the artists who performed them, along with brief asides on their past and present status.
The memories are often surprising; Gary Numan notes that he discovered synthesizers by accident, fiddling with one he found in the studio while recording his first album. He changed from punk rock to synth-pop overnight, re-shaping his career and making New Wave a household name. A Flock of Seagulls singer Mike Score's infamous hairdo was the result of a band member accidentally smushing his oversize bouffant.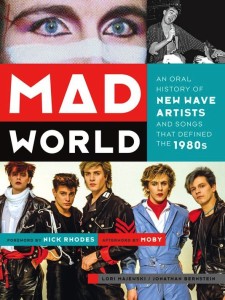 The conversational banter from members of bands like Duran Duran, Tears For Fears and Echo And The Bunnymen makes for addictive reading; it's full of behind-the-music moments, often featuring conflicting statements from band members discussing why they broke-up (Kajagoogoo being the funniest, Animotion the saddest).
But as enjoyable as these blasts-from-the-pasts are, there are glaring omissions. For every 'Cars', 'I Ran' or 'How Soon Is Now', you have arbitrary choices like Heaven 17's 'Temptation.' Given the complete omission of  The Cure, Pet Shop Boys, Billy Idol, The Police, and Siouxsie And The Banshees, that seems like deliberate cherry picking.
And including Depeche Mode's 'New Life' with only commentary from ex-member Vince Clarke feels myopic. The band has plenty of better material and it'd be nice to also hear David Gahan or Martin Gore's take on that period of the band's history.
Adding to this tone are chapter intros where Majewski and Bernstein explain what each song means to them personally. Bernstein constantly espouses what he doesn't like about 80's music. It comes across as snide, off-putting and feels disingenuous. Obviously he is a fan of the genre, so why be so defensive and dismissive? And despite his edict, being a fan of all things OMD, I don't quite see why I have to choose from earlier or later periods of their music?
But that's not enough to spoil the pleasure of learning that Darryl Hall sang backup with Michael Hutchence on INXS's 'The Original Sin', or reading Bernard Sumner and Peter Hook duke it out over  New Order and Joy Division. It's crack for 80's music geeks. It reminds us all about what was great and ridiculous about 80's music, and how those were often one and the same.
Want to own Mad World: An Oral History of New Wave Artists and Songs That Defined the 1980s' on Amazon? Click on the link to order the book below. And I've also made an iTunes playlist for all the songs discussed in the book as well.
[amazon_image id="1419710974″ link="true" target="_blank" size="medium" ]Mad World: An Oral History of New Wave Artists and Songs That Defined the 1980s[/amazon_image]