Lush 'Blind Spot' EP Review: 90's Shoegazers roar back to life on accomplished EP.
The past few years have seen a host of 90's shoegaze acts reuniting, but Lush's comeback was one of the most unexpected.
The London-based band folded after drummer Chris Acland's tragic suicide in 1996, with former members Miki Berenyi, Emma Anderson and Phil King retreating from the spotlight.
But 2015 saw the band reform (with new drummer Justin Welch, formerly of Elastica) announcing plans for a 2016 tour along with Chorus, a commemorative box set featuring their entire 90's output.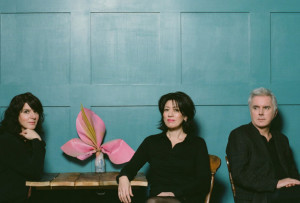 But it's not all nostalgia: the group are back with new EP Blind Spot (out April 15th on the band's Edamame label), and the four-song collection (produced by Jim Abbiss and Ladytron's Daniel Hunt) proves they haven't lost a step.
Out of Control is a stunning opener that feels like an instant classic. The song's undulating daydream soundscapes and Berenyi's wistful delivery perfectly encapsulates the all-consuming nature of young love (don't cry darling let's try to make up/please don't push me I'm over the top).  It's euphoric, yet bittersweet, with Anderson's evocative guitar work running like an undercurrent throughout.
Lost Boy's eerie Gothic overtones prove a suitably haunted tribute to Acland, featuring ghostly keyboards and King's hypnotic bass line.
The breezy Burnham Beeches references the group's mid-90's Brit-pop phase, with elements of 60's surf and jazzy horns, while Rosebud, the EP's final track is a lovely, understated ballad.
Blind Spot is such an assured return, that it leaves you wanting: it glides by like a effervescent sugar rush, showing Lush's sound undiminished by time. Here's hoping they stick around and that a full-length effort isn't far behind.
You can order Lush's EP 'Blind Spot,' and their 4AD 'Chorus' box-set via the Amazon link below: