Levitation 2016 Kickoff Party Review: Chelsea Wolfe, The Veldt: a silver lining to a cancelled festival.
Downtown Austin was filled with many sad, bewildered faces last Thursday evening. The unexpected announcement that Levitation 2016 was cancelled due to bad weather reverberated throughout the city. While all festival attendees were guaranteed refunds, for those traveling from near or abroad, it wasn't much consolation.
Be that as it may, it wasn't a total loss, given Levitation kickoff parties were still in effect at The Mohawk, Barracudas and Empire Garage.
The most high-profile artist of the evening was songstress Chelsea Wolfe, who headlined the Mohawk. Her live show focused mostly on her excellent 2015 album Abyss, an offering that showed her exploring elements of goth, industrial and doom metal.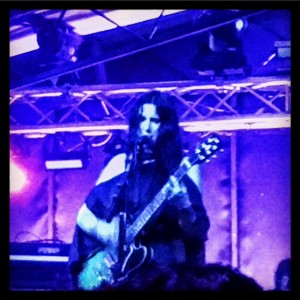 Her dark oppressive soundscapes were matched by the evening's humid weather. Her voice sounded superb throughout, be it on tracks like the harrowing Dragged Out, the shoegaze metal of Iron Moon, or 2013's Feral Love (i.e. the eerie tune featured on a 2014 Game of Thrones teaser trailer).
Her backing band cast a wide dark shadow, exploring unusual synth textures, with her eerie wail augmented by her ghostly witchfinder image.
Stage banter was kept to a minimum, although she echoed the sentiments of all Levitation festival goers: Is the festival still cancelled? That fucking sucks!
Other Mohawk standouts that evening included the heavy psyche of Pinkish Black, Austin darkwave outfit Troller, and New Zealand's atmospheric Dead Forest Index.
After Wolfe concluded her set, I hot-footed it down to Barracuda, which was at full capacity, with Levitation refugees standing in line eager for their psychedelic fix. They weren't disappointed, with the likes of Mystic Braves, Floorian and Candy Mountain bringing hallucinogenic goodness at decibel breaking levels.
But the highlight was certainly The Veldt, 90's shoegaze veterans who are making a well-deserved return to the public eye thanks to their excellent new EP The Shocking Fuzz of Your Electric Fur The Drake Equation Mixtape EP
While the group's set was painfully short, they packed a big punch, with their unique mix of dream pop, soul and trip-hop maximized to full-bodied effect. New members Bassist/programmer Hayato Nakao and drummer Martin Levi ably supported the group's founding twin brothers Daniel and Danny Chavis, the former's croon complemented by the group's sparkling soundscapes.
His sonorous pipes have always made the group standout in the more vocally timid genre of their contemporaries, and the crowd were caught in their spell.
Their set-list surprisingly didn't contain any tracks off the new EP, or entries off cult classic Afrodisiac, but they offered a thrilling new tune Symmetry to close the set.
It was thrilling kickoff to a festival that never materialized, and this weekend's sunny weather felt like a kick in the ribs to all attendees, putting plans for a 2017 festival in jeopardy. But at least the foreplay helped soften the blow.