Kilbey Kennedy 'Glow and Fade' Review: duo's fifth album shows an expansive and winning evolution in their shimmering, psychedelic sound. 
The Church's Steve Kilbey and All India Radio's Martin Kennedy rejoin forces on Glow and Fade, their fifth studio album under the Kilbey Kennedy moniker (released May 26th on Golden Robot Records).
The duo specializes in a sound that draws upon all their disparate influences: dream pop atmosphere, gurgling electronic beats and vintage psychedelic textures, resulting in a fully transportive mix, further elevated by Kilbey's captivating lyrics and impassioned vocals.
The title track sets the stage for their sonic grandeur, with swirling synths and crystalline guitar textures that frame Kilbey's melancholic ruminations:
I love the river where we washed away
All the sins that I love
And I love the love that I love to give away
Until I ended up with no one to love.
The Game Never Changes is a tour de force: 16 minutes of cosmic tripped out bliss that tips its hat to Bowie's Space Oddity, moving from acoustic to intro to throbbing electronic verses before eventually ceding to Kennedy's acid-drenched guitar solo.
Kilbey's vocals are stirring throughout, particularly strong on the pastoral They Know, and the trip-hoppish Law of The Jungle (which features angelic backing vocals from Selena Cross). Lyrics invoke images of star-crossed lovers separated by vast time and space: Decade of love/You were made/to glow and fade. The song ends with mournful trumpet, adding to the emotional undercurrent.
We Are Still Waiting is another highlight (also featuring Cross), full of warm acoustic guitar and a trancey dance beat that sounds like the sun peeking through the clouds of a gloomy overcast day.
The Story of Jonah plays to Kilbey's biblical inclinations, with Pink Floyd-worthy textures that ooze atmosphere, while Levitate's sci-fi soundscapes wouldn't feel out-of-place on the Blade Runner soundtrack: eerie yet lovely, alien yet familiar.
Even at just 8 tracks, Glow and Fade has the epic scope of a classic rock double-album. It's a further expansion and revelation of the rewarding partnership between two musicians who compliment each other in wonderful and unexpected ways.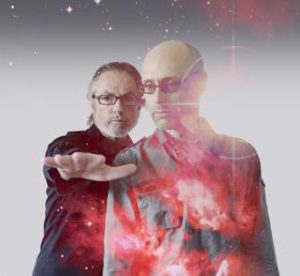 Glow and Fade will certainly burn bright, but don't expect it to fade from view anytime soon–it will keep your ears and mind occupied for hours on end, with one foot in 70's prog-rock heaven (as the wonderful album cover attests), and the other in some far-flung future only accessible through their singular sound.
Own Kilbey Kennedy's 'Glow and Fade' via Amazon below: