John Fryer Talks New Black Needle Noise Album 'Lost in Reflections': veteran producer discusses new Black Needle Noise album, working with Chrysta Bell and more in our exclusive interview. 
John Fryer has been a pivotal figure in the evolution of electronic and alternative music. As a producer he's worked with some of the most pivotal groups in post-punk, synth pop, Goth and industrial, including (but not limited to) Nine Inch Nails, Depeche Mode, Love and Rockets, Swans, Yazoo, Cocteau Twins and Peter Murphy.
Fryer has also worked on several of his own musical projects, most notably This Mortal Coil, and he's just released 'Lost in Reflections,' his second album under the moniker Black Needle Noise.
Black Needle Noise features his groundbreaking use of electronics, seeing Fryer work with a host of vocalists, including Front Line Assembly's Bill Leeb, Kite Base's Kendra Frost, Andrea Kerr and Mimi Page.
[themoneytizer id="12119-2″]
I recently interviewed Fryer to discuss the new album, his recent collaboration with Chrysta Bell covering the theme to Twin Peaks, and more.
Enjoy the full Q&A that follows.
I was curious how you approach your work in Black Needle Noise, particularly on Lost in Reflections: Did you have a general concept of how the album would be from the start or did it come together in pieces?
"Lost In Reflections" was put together like "Before The Tears Came", it is a collection of songs/singles put together over time to form the album with 1 extra song that hasn't been released before just for the album. Black Needle Noise is a stream of consciousness writing, ever-changing and evolving soundscapes.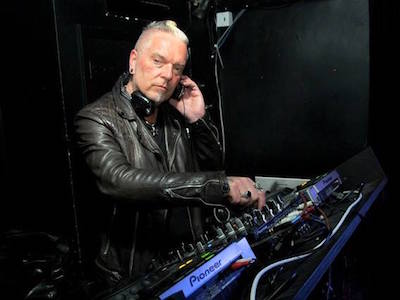 One thing I love about the album is how each vocalist compliments the material: did you write each song with a particular vocalist in mind? Does that drive your creative process, or is that something that only comes after the song is finished?
It's something that comes after the songs are finished apart from "Swimming Through Dreams" where it went back and forth a couple of times to find the right place and sound.
'She Stands on a Storm' is another favorite: I like how it veers between soothing and menacing. The whole album really covers a lot of sonic terrain, and you've worked with such a diverse array of artists as both a musician and as a producer. Is that sense of variety and incorporating multiple genres important to you in Black Needle Noise?
Yes, its something I've done my whole career, worked on different styles of music and different kinds of sound. I think I have been very fortunate in my career to date to be involved in such an array of music and talented artists. Black Needle Noise is what ever it want's to be, what ever comes out of me. The only time something specific is written is when I get asked to write something for a film or TV show. i.e. the songs "I Face The Wall" & "Neon Noir" were both written for movies.
 I love the first single 'Neon Noir'–it has such a classic 80s feel–was that era of music fun to revisit, and can you tell me anything about the film it was written for? And did you write that knowing you'd be performing the vocals?
I was asked to write a song sounding like it came from the late 80's as the movie is set in Berlin in the late 80's. It was great fun going back in time and making the song and I only ended up singing as the song had to be delivered on the Monday morning and I didn't finish the music till Sunday night ; as with a lot of these songs you get asked to write you don't get much time, so I ended up singing it as it was too late to get someone else in.
Kendra Frost is the only vocalist featured on multiple tracks ('Warning Signs' and 'This Kind of Road'). When did you first discover her and what do you feel she brought to the project?
My friend Simon Helm from "Cold War Night Life" told me about her, she had done a cover of a NIN track with her band "KITE BASE" and Simon said I should check it out and think about asking her to sing on Black Needle Noise. I really liked her voice on the cover so I contacted her and she was thrilled that I liked her voice and wanted her to sing on BNN. The rest is history as they say.
Are there any plans to do any live performance of the new album, or at least select tracks with certain vocalists?
I really want to do some live shows with Black Needle Noise as I really enjoyed playing live with my other 2 bands. It was easier with them as they only had 1 singer each. I'm still trying to work out how to do it with Black Needle Noise live but it will happen 1 day for sure.
Now this isn't album related but I had to ask about your collaboration with Chrysta Bell. Whose initial idea was it to cover 'Falling,' the Julee Cruise song from Twin Peaks? And have you felt a sense of connection with that song ever since David Lynch said This Mortal Coil's cover of 'Song to the Siren' inspired him to write it?
It was Chrysta Bells' idea to cover the song, she had recorded the song with her band and asked me to mix it but their recording was very close to the original and it needed a fresh sound and taken to a whole different place. So I made the music around the vocals Chrysta Bell had already recorded.
Do you have plans on collaborating with Bell in the future, either for a new project or perhaps the next Black Needle Noise release?
Yes, she will sing on a Black Needle Noise song or 2 in the future.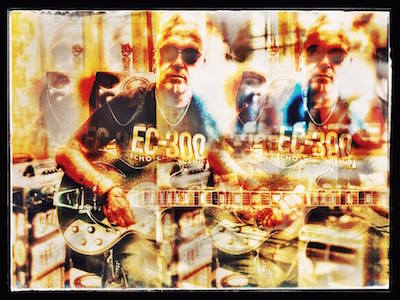 That wraps up my questions: Is there anything else you'd like to add about the new album or any other upcoming projects you'd care to promote?
I hope people are enjoying the album "Lost In Reflections" and I hope people are checking out the singers other bands and project as well. I hope Black Needle Noise is helping people discover new music that they may never heard of other wise. Love, Peace and Respect to all.
Buy it on Amazon below, or click here for the Bandcamp page: