Jane's Addiction's Nothing's Shocking turned 25 years old last week.
And boy does that make me feel old. The album came out when I was in high school for God's sakes.
Nothing's Shocking's title was a misnomer because the album proved a lightening rod for controversy. It started with the album cover, which featured a sculpture of nude conjoined female twins with flaming heads.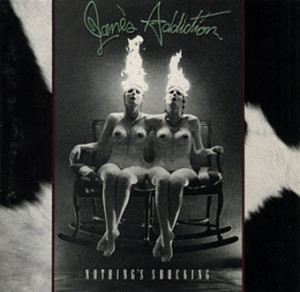 Band leader Perry Farrell modeled the piece after his then girlfriend Casey Nicoli, saying the image came to him in a dream.
It's provocative sexual imagery caused music retail stores to sell the album in a brown cover.
This of course only heightened the album's allure for teenagers like myself.
And the music was just as audacious.
Nothing's Shocking took all that had come before and combined it into a crazy quilt of punk fury, goth style and classic rock riffage. Tunes like Ocean Size and Mountain Song had the power of metal but with a post-punk sensibility.
Own Nothing's Shocking on iTunes:
Yes, the members of Jane's Addiction were hedonistic pleasure seekers, but they weren't dimwitted cock rock brutes.
Had A Dad was Farrell's take on bassist Eric Avery's discovering his biological father.
Ted Just Admit It was a fever dream regarding serial killer Ted Bundy. It was weird, unsettling and powerful.
Farrell compensated for his lack of vocal range by using guitar pedals to expand and distort his voice. He was augmented by guitarist Dave Navarro's oversized textural goth/metal riffs, which owed just as much to Robert Smith as it did to Jimmy Page.
The band's rhythm section was equally impressive. Avery's bass-lines offered just as much sonic hooks as Navarro's riffs, and drummer Stephen Perkin's brought a tribal intensity to their rhythms.
The band would go on to make their more acclaimed sophomore album Ritual De Lo Habitual.  And they're still together (sans Avery). But Shocking remains my personal favorite, given its genre defying nature. It felt dangerous, transformative and mythic.
Farrell reflected on the album's legacy in a recent interview with Radio.com, commenting:
Prior to that (album release), I was a kid in Los Angeles, I guess you could call me a street urchin, I was hanging out with a lot of other musicians in the city, it was a very different scene back then. It was built around music. Today, there's a lot of other things for young people to do. We didn't have computer games and social media.
And regarding the alternative rock scene at the time, he had this to say:
If you look at entertainment as a pastime… there's a golden era of baseball, there's a golden era of boxing, and yes, there was a golden era of music. That was a golden era , in my mind. We didn't have computers, [rock] groups were more important to us. We used to wear our music on the back of our leather jackets. When was the last time you saw that?
Nothings's Shocking predated grunge, took the heavy alternative sound of The Cult and amped-up the experimentation and weirdness. They set the template for the 90's sound and Farrell became a cultural tastemaker when he created the Lollapalloza music festival, and the rest is history.
Do you have fond memories of Jane's Addiction's Nothing's Shocking? Tell us in the comments section.
Click here for Siamese Dream Turns 20 Years Old, and stay tuned for an ongoing series of post of Albums That Changed My Life, starting next month.