Housecore Fest Concert Review: Danzig/Samhain at Emo's: moody metal frontman closes Housecore Horror Fest in style:
The 2014 Housecore Horror Fest came to a close at Emo's on Sunday in suitable fashion: after the old-school thrash of Dallas's Warbeast and the sloppy sludge of Eyehategod, it was time for Danzig.
The 59-year-old metal vocalist got a drunken sendoff from festival founder Phil Anselmo, and after a delayed start, he started things off with Skincarver which got the blood moving in an already rowdy crowd.
He barreled through with classic rockers like Not of This World, How The Gods Kill and Am I Demon. Surprise offerings included the bluesy Killer Wolf and Black Hell (from the Hangover Part 3 soundtrack). Sadly, like their last gig in Austin, my favorite track Snakes of Christ was left out of the set. Perhaps he dislikes the song? Oh, well.
The set was plagued by a muddy sound mix (the singer shot continued dagger eyes at the sound man) but it didn't dampen the mood of the rabid crowd: occasional moshing broke out and the air was filled with a sea of devil horns. Prong guitarist Tommy Victor played his dark riffs and squealing harmonics in style, doing so with a laid back smile.. Bassist Steve Zing and drummer Tommy Kelly kept pace with a smacking wallop.
The band retreated briefly, and Danzig emerged doused in (presumably) fake blood. Zing switched to drums and bassist London May and guitarist Peter Adams (Baroness) joined in for the Samhain set. Glenn Danzig seemed miffed at the band and grabbed a guitar, saying that while he hates playing and singing at the same time, he needed to get the vibe right. The Samhain set was fast and furious, ripping through horror-rock classics including He Who Cannot Be-Named and Black Dream, before culminating in the dark rockabilly of ArchAngel.
After another quick break, Victor  and Kelly returned for two more Danzig tunes: Bringer of Death, and of course Mother. The latter was a special treat, as Anselmo contributed backing vocals at Glenn's request. The show concluded with Anselmo and Danzig hugging. A sweet moment of metal bromance after a brutal set, and a fitting end to a great festival.
Here's the official Danzig/Samhain set list: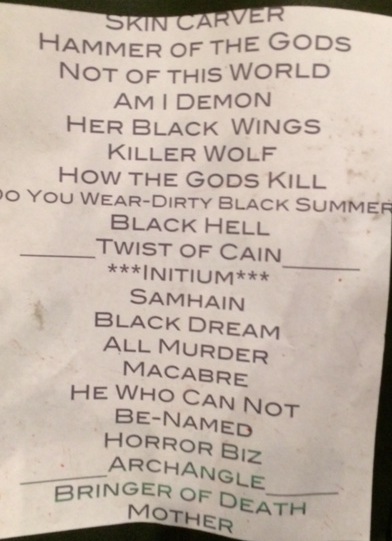 **On a side note, I've just learned the tragic news that Housecore festival co-founder Corey Mitchell passed away from a heart attack this morning. While Anselmo was the face of the festival, Mitchell came up with the concept, and managed much of the planning of the events. After attending this and last year's Housecore, I just wanted to give my condolences to his family for their loss. I imagine it will be a mighty task to do another festival without his guidance. R.I.P.