The Horrors 'Luminous' Review: British quintet keep expanding and polishing their retro element into intriguing new shapes.
There are few band's better at mining vintage rock sounds to great effect than British group The Horrors.
Each album helps to refine their mix of 60's psychedelia, 70's krautrock, 80's new wave/ goth, and 90's dream pop and Britpop. And unlike many contemporaries overly slavish to retro sounds, The Horrors keep it fresh, thanks to their expert blending of disparate influence.
.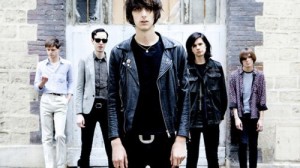 'Luminous' shares much in common with previous release, 2011's 'Skying.' Both are smoother albums than psychobilly début 'Strange House' and the ghostly carnival feel of 'Primary Colours'. Opener 'Chasing Shadows' is a perfect distillation, with a trippy Chemical Bros. intro that careens into a rollicking MBV style shuffle.
'So Know You Know's glacial electronics is like a love letter to OMD. Blissful synth bleeps and an oceanic rhythm is soothing and encapsulating. Brit-pop gets a nod in the sleazy riffing of 'Jealous Sun' and the skronky groove of 'Falling Star.'
The biggest change in their sonic repertoire lies within the vocals of Faris Badwan, who sounds equally strident and ethereal, building on his vocal evolution from past efforts.
Preview 'Luminous' in Full Below:
Single 'I See You' is perhaps the catchiest album moment, spacey and expansive it cries out to be blasted from a car on a coastal drive. Perhaps the most distinctive track is 'Change Your Mind.' It's jazzy languor has an elegance and restraint not always associated with an outfit so obsessed with layering sounds.
It's hard to pick on 'Luminous' since it's such a cohesive sonic experience. Is it groundbreaking? A game changer? No. But it sounds so damn good, who cares?
You can own The Horrors 'Luminous' on iTunes and Amazon via the links below:
[amazon_image id="B00ISSB86Q" link="true" target="_blank" size="medium" ]Luminous[/amazon_image]