Happy Birthday Glenn Danzig: Celebrating 60 Evil Years: a look at 60 devilish years in the life of the metal/punk icon. 
Rocker Glenn Danzig turns 60 on June 23rd, 2015. And he shows no signs of mellowing with age, with a summer tour and three new albums in the works.
But let's take a look back in honor of his birthday, and look upon the most notable highs, lows, and colorful moments from his life and musical career.
1955-Danzig is born
Born Glenn Allen Anzalone in Lodi, New Jersey, Danzig's formative years were influenced by Elvis, Black Sabbath, comic books and horror movies, all of which would help shape his career.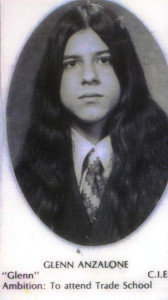 1977-1983-The Misfits Redefine Punk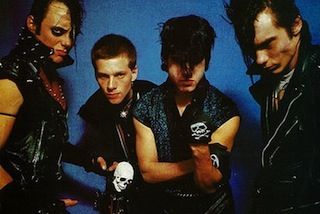 Danzig merged his influences when he formed The Misfits, a group that pioneered the horror punk sub genre with their monster movie lyrics, devil-lock hairstyles and iconic Crimson Ghost skull emblem.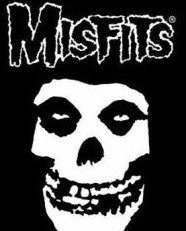 The group cranked out a slew of punk classics, including Where Eagles Dare, Green Hell, Last Caress, Attitude, Die, Die My Darling, Hollywood Babylon, London Dungeon and way too many others to mention, with albums released on Danzig's Plan 9 label.
Frustrated by the lack of musical growth from his band mates, he leaves the group in 1983.
1983-1986 Samhain era

His next group, Samhain, went darker, fusing death rock, goth and metal with occult themed lyrics. Over the course of 2 albums and an E.P., the group's cult following caught the attention of producer Rick Rubin, who would help chart the next phase of Danzig's career.
1987-Danzig signs to Def American Records
Rubin persuades Danzig to change the group's name to his adopted moniker, and they embrace a more traditional metal sound. Along with Samhain bassist Eerie Von, the group's classic lineup was formed alongside guitarist John Christ and drummer Chuck Biscuits.
1987-Metallica cover The Misfits
Metallica's The $5.98 E.P: Garage Days Re-Revisited features a medley of Misfits songs Green Hell and Last Caress, exposing Danzig to a wider audience. The band would champion his efforts for years to come.
1987-Less Than Zero Soundtrack
Danzig had a big involvement in the Rubin produced Less Than Zero soundtrack. In addition to his Righteous Brother's homage You and Me (Less Than Zero), he penned the track Life Fades Away for musical hero Roy Orbison.
1988-Danzig's self-titled début is released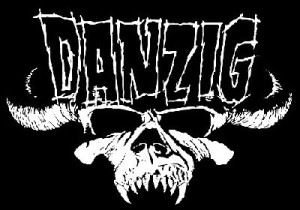 The group's first full length effort with Rubin featured their classic hit Mother, the searing Twist of Cain and stripper anthem She Rides. Danzig's lyrics continued his love of the occult and blasphemous religious references.
1988-Mother video gets banned by MTV
Danzig's Mother video was banned after one viewing on MTV's Headbangers Ball for (simulating) a chicken being slaughtered and its blood drained upon a scantily clad model. As luck would have it, I was watching that night, lost forever to the dark side. Thanks Danzig!
1990- Danzig II: Lucifuge is Released
Danzig's sophomore album (arguably their finest) mixed their metal sound with elements of rockabilly and the blues, fueled by classic tracks Her Black Wings, Snakes of Christ, Blood and Tears and I'm The One.  It also featured a nifty photo of the band that folded out into a nifty upside down cross motif. \mm/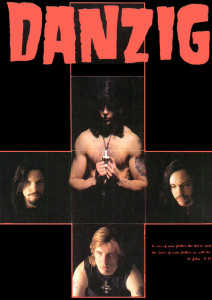 1990-Danzig's Book Club
In a sadly out of print documentary, we get a glimpse of Danzig's literary side when he shows off his eerily lit book collection. His quote about The Occult Roots of Nazism (every school child should have this book!), makes us long for the Danzig's kid show that never was!
1992-Danzig goes classical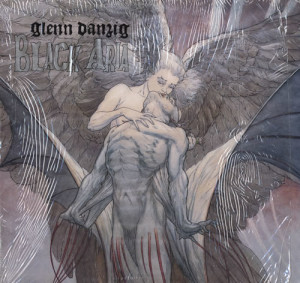 Glenn Danzig releases the instrumental album Black Aria, that despite sounding like a John Carpenter score, topped the U.S. classical album charts upon its release. Classical musical fans who already thought Hooked On Classics was blasphemy, clutched their crucifixes tight at night.
*It's sequel Black Aria II, would repeat that feat in 2006.
1993-Danzig III: How The Gods Kill is released
The group releases another Rubin-produced effort, featuring the surf-inspired classic Dirty Black Summer, the religion bashing Godless, Elvis style ballad Sistinas and the dynamic title track. A copyright dispute over the cover art by artist H.R. Giger (Alien) resulted in the strange but true event of Danzig getting served a court order during a concert performance!
1993-Mother becomes a hit 6 years later.
Thanks to MTV's constant airing of the concert video for Mother featured on the EP Thrall Demonsweat Live, the song reaches a wider audience. Danzig's sweat-soaked caterpillar sideburns are immortalized for posterity.
1994- Danzig writes for Johnny Cash
Rubin resurrected Cash's career when he produced his 1994 album American Recordings. Danzig jumped at the chance to pen a tune for The Man In Black, resulting in the dark ballad Thirteen. Danzig would later record his own rendition, which would appear in the opening scene of sex comedy The Hangover.
1994-Danzig does comics
The singer launches Verotik, his adult themed comic book line featuring sexual and satanic imagery that kept it out of most comic shops, but developed a cult readership.
1994-1995 Danzig 4 and the end of an era
Thanks to the momentum from Mother, the band scored their highest Billboard chart début with Danzig 4. But the album's mix of goth, industrial and experimental textures spooked many longtime fans. To them, I say, WTF? It's one of my favorites.
But the shift in musical styles highlighted Danzig's dissatisfaction with his band mates and Rubin, both of which crumbled due to financial disputes, ending with Danzig leaving Def American as a solo artist.
1996- Danzig breaks out the glow sticks and goes to Disneyland
Danzig explored industrial and techno on Danzig 5: Blackacidevil, producing and playing most of the instruments (Jerry Cantrell contributed a guitar solo). But his experimental gamble resulted in poor album sales. He seemed unfazed, stating in a 1999 interview with Metal Maniacs:  People either loved it or hated it…maybe some of the people who only liked "Mother" dropped out…but they're not permanent fans. The core following you have is your most important thing.
Even more jarring, Blackacidevil was released on Disney-owned Hollywood Records, and his controversial nature got him dropped from the label.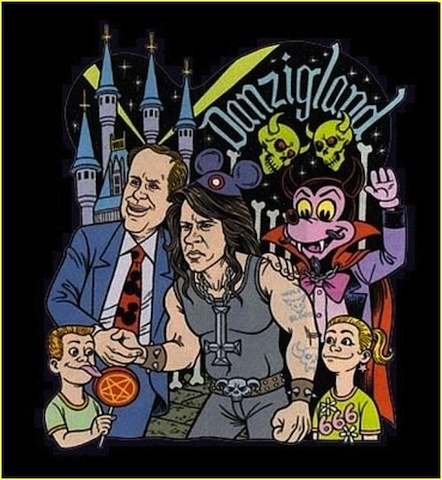 His reaction was priceless: Roy Disney freaked out…he saw this Tower Pulse! political cartoon…It was of me and Michael Eisner shaking hands in Anti-Disneyland. Mickey Mouse had 666s on his head and people were in roller coasters on flames, there were upside-down crosses everywhere. It was pretty funny, but I guess he freaked….Rick Rubin was pissed… and sent him the "It's Coming Down" video…the one where the guy gets the nail banged through his dick…Rick Rubin's a big scumbag.
One of my all time favorite anecdotes, by any musician.
1996-Danzig teams up with Prong's Tommy Victor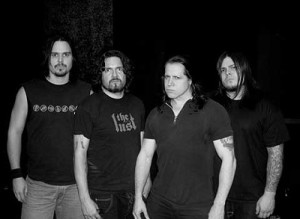 Danzig recruited the Prong frontman/guitarist during his slot on the first Ozzfest. He left shortly afterwards but would later become Danzig's most frequent 21st century collaborator.
2002-Danzig gets animated
Proving that he does have a sense of humor, the singer lent his voice and image to a cameo on Adult Swim's Aqua Teen Hunger Force. It's amazing.
2004-The infamous knockout
Danzig got knocked out during a confrontation with North Side King's Danny Marianino. Danzig haters rejoiced, but hardcore fans thought it was a set-up for free press (did you ever hear of the North Side Kings before 2004?). Danzig told Metal Hammer that: I allowed it to happen…because there are always those looking to goad you into hitting them so they can sue you. Hmm. Interesting strategy…at least he has some past brawls to recall more fondly.
2005-Blackest of The Black and a return to his roots
After swearing off performing Misfits songs for years, Danzig invited former band mate Doyle Von Frankenstein to play a blistering set of punk classics during his 2005 Blackest of The Black Festival.
2007-The Lost Tracks of Danzig
Danzig releases a double album of previously unreleased material, including the controversial Satan's Crucifixion, and a killer cover of David Bowie's Cat People.
2009-North Side King's Danny Marianino's house burns down.
A freak accident, or delayed revenge? We'll never know…
2010-Danzig has best chart début since the 90's.
After years of exploring more extreme metal and experimental leanings, Danzig returns to his blues metal roots with Deth Red Saboath, which hits #35 on the Billboard charts, his biggest début since 1994's Danzig 4.
2010- Danzig buys Kitty litter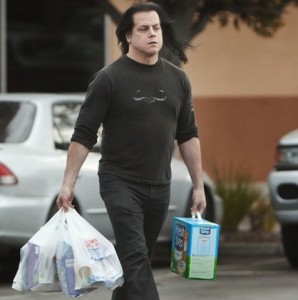 Why did the internets explode when seeing Danzig carrying a box of Fresh Step from the grocery store? Was it because he wore a Danzig shirt? Or the realization that he has to go to the store like everybody else? Or just knowing Glenn is an old softy that loves his cats? I have no idea, but let's face it: It's goddamn magical.
He was baffled by the attention, noting in a Buzzgrinder interview: why do people even care? Why are they wasting their lives on this (laughing)? Because the internet, that's why.
2011-Danzig was no fun at Fun Fun Fun Fest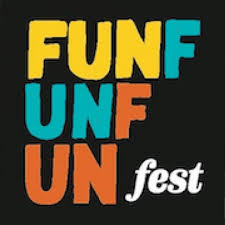 Danzig's Legacy set (performing Danzig, Misfits and Samhain material), didn't go well at Austin's 2011 Fun Fun Fun Fest.
Festival promoters claimed Danzig delayed his set due to cold weather and health concerns of a Deathbug, even after they acquiesced his demands for a Wendy's grilled chicken sandwich and french onion soup.
As a result of the delay, the show was cut due to noise curfew, and fans never got their Misfits set. Danzig reportedly tried to incite a riot, but to no avail. Regardless, Austin can't get enough of him: a statue of the rocker riding a dragon might actually become a reality. I pray to the dark lord to make it so.
*He would return to Austin 2013 in what appeared to be makeup for said event. Check out my review. 
2014-The Misfits lawsuit is a Hot Topic
Glenn Danzig sued former Misfits bandmate Jerry Only over the questionable band merch being sold at Hot Topic. The lawsuit got thrown out of court, resulting in the travesty that is Skull print Ugg Boots. Jerry, you goddamn son of a bitch…why didn't you think about it baby?
2015-Danzig dons his iconic skull makeup for the first time since 1980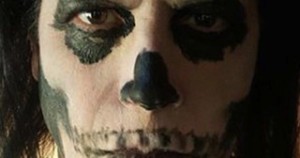 Yep, his Crimson Ghost visage will be featured in the artwork for the long-awaited cover album Skeletons.
I make no apologies for my fondness for Danzig. What he lacks in political correctness and self-awareness, he makes up for in rock, forming three iconic bands and a bunch of badass songs. All the rest is Satanic icing on the cake.
I had a lot of fun interviewing him last year, and I can't wait to hear his new tunes.
Happy 60th Birthday Glenn. I can't wait to commemorate your (6)66th.