Faith No More 'We Care A Lot' (Deluxe Band Edition) Review: FNM's long out-of-print début gets the reissue it deserves.
Out of print for 20 years, Faith No More's début release We Care A Lot is getting a long overdue reissue. Released on Bassist Billy Gould's Koolarrow Records (due out August 19th),We Care A Lot (Deluxe Band Edition) is a remastered overhaul of the original that should thrill longtime fans.
We Care A Lot, featuring original vocalist Chuck Mosley, (who would be replaced by Mike Patton in 1989), is an interesting sonic snapshot of the group in its nascent, formative years in the San Francisco Bay Area.
The iconic title track rules the roost on this release, especially on a 2016 remix (from band producer Matt Wallace) with more low-end oomph than the original. That song's exoskeleton shows what made the group so special in the first place: a seamless mix of funk, hip-hop, metal, Goth and post-punk, which put the group at the forefront of the burgeoning alternative rock movement.
This is also echoed in the lyrics, a hilarious yet pointed cynicism about the self-aggrandizement, lip-service and egotism that often defeated celebrity championed charity events in the 80's.
The Jungle is a solid crunchy number that recalls vintage Killing Joke, while cult classic Mark Bowen showcases their penchant for tribal percussion and anthemic choruses, aided by Roddy Bottum's cinematic keyboard flourishes.
Mosley, while not able to compete with his golden voiced successor, is an engaging presence throughout, his snot-nosed punk attitude a perfect foil to the group's aggressive, textural workouts on tracks like the sullen Pills For Breakfast, groove laden Arabian Disco and live staple As The Worm Turns. And former guitarist Jim Martin gets his own showcase, on an acoustic instrumental (titled appropriately, Jim).
In addition to remastered album cuts, remixes (the best being an slamming, instrumental rendition of Pills For Breakfast), and liner notes by Bottum, the album also includes a selection of demos, live recordings and one previously unreleased instrumental, (the John Carpenter-esque Intro), all of which show the group's raw talent and sense of dynamics.
The live cut of New Beginnings (recorded at San Francisco's (now defunct) I Beam club is a particular revelation, showcasing Mike Bordin's already impressive drum chops.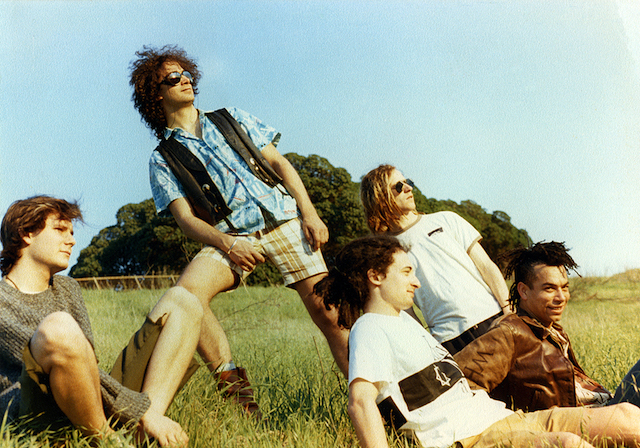 While We Care A Lot can't match the heights Faith No More reached with Mike Patton at the helm, it's an important time capsule showing their early potential, and a must-have release for completists wanting to hear the early building blocks of the band's inimitable, genre-defying sound.
Faith No More, We Care a Lot Reissue Track List
1. "We Care A Lot"
2. "The Jungle"
3. "Mark Bowen"
4. "Jim"
5. "Why Do You Bother"
6. "Greed"
7. "Pills for Breakfast"
8. "As The Worm Turns"
9. "Arabian Disco"
10. "New Beginnings"
11. "We Care A Lot" — 2016 Mix
12. "Pills for Breakfast" — 2016 Mix
13. "As The Worm Turns" — 2016 Mix
14. "Greed"— Original Demo
15. "Mark Bowen"— Original Demo
16. "Arabian Disco"— Original Demo
17. "Intro"— Original Demo
18. "The Jungle"— I-Beam, San Francisco, 1986
19. "New Beginnings"— I-Beam, San Francisco, 1986
Own Faith No More's 'We Care A Lot' on MP3 of Vinyl via Amazon below: