Eagles of Death Metal Release New Song 'Complexity': John Homme marks return to side project with new track 'Complexity'.
Queens of the Stone Age frontman Josh Homme surprised Eagles of Death Metal fans by popping up onstage at a gig in Paris last week. And now his return to his side project is complete: today the group premiered a new track Complexity off their forthcoming album Zipper Down with an album cover featuring the band in Star Trek inspired outfits: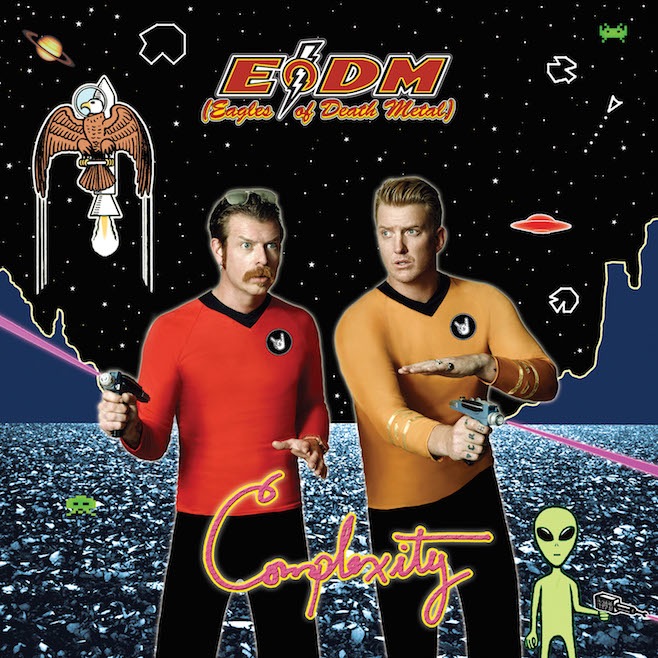 Homme describes the new track as "the musical equivalent of holding a lucky rabbit's foot with the unlucky rabbit still attached." You can check out Complexity below when it premieres on Vevo June 17th or at Pitchfork which is debuting it today.
The track features the classic EODM sound, a little bit of rockabilly, some 60's garage and 70's glam all wrapped in sugary hooks and over the top vocals. This will make the second incarnation of the track, which originally appeared on Hughes' Boots Electric project from the album Honky Kong.
Hommes founded Eagles of Death Metal with vocalist/guitarist Hughes back in 1998, but his involvement with the band had waned in recent years due to his commitments to QOTSA and supergroup trio Them Crooked Vultures. This will be the group's first album since 2008's Heart On.
And with Queens of The Stone Age on hiatus, Homme is diving back in a big way: the band will be performing several big profile festival gigs, including 2015 Riot Fest shows at Denver, Chicago and Toronto.
Below is the full track listing for Eagles of Death Metal's Zipper Down. It's due for release on October 2nd.
01 Complexity
02 Silverlake (K.S.O.F.M.)
03 Got a Woman
04 I Love You All The Time
05 Oh Girl
06 Got the Power
07 Skin Tight Boogie
08 Got a Woman (slight return)
09 The Deuce
10 Save a Prayer (Duran Duran cover)
11 The Reverend
And click here to see the awesome album cover, and find info on the new Vice doc about Hughes.
Here's a full list of EODM tour dates:
Eagles of Death Metal:
06-16 Glasgow, Scotland – The Garage
06-17 London, England – KOKO
06-19 Mérignac, France – Krakatoa
06-20 Vitoria, Spain – Azkena Rock Festival
06-22 Bologna, Italy – Botanique
06-23 Zagreb, Croatia – INmusic Festival
06-25 Werchter, Belgium – Rock Werchter
06-27 Norrköping, Sweden – Bravålla Festival
06-28 Odense, Denmark – Tinderbox Festival
06-29 Berlin, German – Huxleys
06-30 Prague, Czech Republic – Lucerna Music Bar
07-02 Gdynia, Poland – Open'er Festival
07-04 Luxembourg, Luxembourg – Rock A Field
07-05 Belfort, France – Eurockéennes
07-06 Milan, Italy – Carroponte
07-07 Dornbirn, Austria – Conrad Sohm
07-09 Novi Sad, Serbia – Exit Festival
07-10 Trencin, Slovakia – Pohoda Festival
07-12 Tel Aviv, Israel – Barby
07-14 Athens, Greece – Fuzz Club
07-16 Hegyalja, Hungary – Kingdom of Hegylja Festival
08-27 Albuquerque, New Mexico – Launchpad
08-28 Denver, CO – Riot Fest
09-01 Portland, OR – Wonder Ballroom
09-02 Seattle, WA – The Showbox
09-03 Vancouver, British Columbia – Commodore Ballroom
09-08 Winnipeg, Manitoba – Pyramid Cabaret
09-09 Minneapolis, MN – Varsity Theater
09-11 Chicago, IL – Riot Fest
09-12 Detroit, MI – The Underground Arts
09-15 Washington, DC – 9:30 Club
09-19 Toronto, Ontario – Riot Fest
10-24 Sacramento, CA – Aftershock Festival
10-31 Leeds, England – Beckett University
11-01 Norwich, England – Norwich UEA LCR
11-02 Bristol, England – O2 Academy Bristol
11-04 Southampton, England – Engine Rooms
11-05 London, England – The Forum
11-06 Birmingham, England – The Institute
11-07 Manchester, England – The Ritz
11-09 Newcastle Upon Tyne, England – O2 Academy Newcastle
11-11 Glasgow, Scotland – O2 ABC
11-13 Paris, France – Le Bataclan
11-14 Tourcouing, France – Le Grand Mix
11-17 Cologne, Germany – Essigfabrik
11-18 Zürich, Switzerland – Komplex Klub
11-19 Munich, Germany – Kesselhaus
11-22 Bremen, Germany – Aladin
11-30 Vienna, Austria – Arena
12-07 Nimes, France – La Paloma