Deftones SXSW 2016 @ Auditorium Shores Concert Review: Sacramento alt-metallers thrill with free last-minute show.
The Deftones surprise gig at Auditorium Shores on Thursday stood out like a sore thumb against the hipster fare that preceded them, and I mean that in the nicest way possible.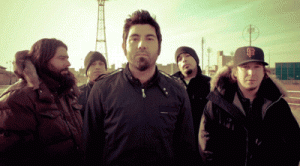 Thus the Austin skyline reverberated with their beautiful noise for a full-length set (a bonus given their likely truncated performance at Spin's Friday Stubb's showcase.)
The crowd grew restless due to a delayed start (understandable given they were a last minute replacement for Ray LaMontagne), which made the group's slamming opening number Rocket Skates all the more invigorating, with frontman Chino Moreno delivering his trademark shriek: Guns, Razors, Knives!!!
The group cut a wide swath through their discography, from 2013's Koi No Yokan (Swerve City, an utterly transcendent Rosemary, Tempest), Diamond Eyes (a particularly menacing You've Seen The Butcher) and White Pony (the standouts being Digital Bath and Change in the House of Flies)
Surprisingly the group played just one track off their upcoming album Gore, the shoegazey Prayers/Triangles.
Stage banter was kept a minimum, although Moreno trolled the crowd by saying a IPA brought to him on stage was brewed in Dallas, before raising it and saying Salud with a wide grin.
He was manic stage presence throughout, leaping, lurching and doing old school crowd surfing.
Guitarist Stephen Carpenter cranked out riff after riff with his sledgehammer 8-string, his curly mane blowing in the wind, pushing Austin's noise ordinance to the limit. And bassist Sergio Vega pulled double duty, laying down pulsating grooves and soaring backing vocals in lockstep with Moreno (who also joined in on guitar duties on several tracks).
Everyone was transported to the 90's during Around The Fur classics My Own Summer (Shove It) and Be Quiet and Drive (Far Away), both of which elicited the strongest cheers, save for the final encore, when the band tore through Adrenaline's Engine No. 9, which they mashed up seamlessly with Cypress Hill's How I Could Just Kill A Man.
The audience exited ears ringing, and beatific, grateful that metal (an ever underrepresented genre at the Austin festival) was in full effect, and one of this years biggest SXSW highlights.
Deftones SXSW 2016 Setlist:
Rocket Skates
You've Seen the Butcher
Feiticeira
Digital Bath
Knife Prty
(with "Hotline Bling" by Drake tease)
Swerve City
Around the Fur
Rickets
Be Quiet and Drive (Far Away)
My Own Summer (Shove It)
Prayers / Triangles
Diamond Eyes
Rosemary
Tempest
Change (In the House of Flies)
Hexagram
Encore:
Root
Engine No. 9
(with "How I Could Just Kill a Man" )
You can pre-order Deftones' new album Gore via iTunes or Amazon below: