Deftones 'Gore' Review: alt-metal titan's latest rewards repeat listens.
Sacramento's Deftones have plugged away valiantly for nearly three decades, eclipsing, obliterating and transcending any affiliation with their late-90's nu-metal peers. They've embraced elements of more experimental musical movements, integrating them into new and unusual shapes within their metal underpinnings.
It speaks volumes to the band's staying power that 2012's Koi No Yokan was one of the best reviewed album of their career. This made expectations for Gore, the band's latest release perilously high. And the new album (produced by Matt Hyde) mostly delivers, although not as immediately as its predecessor.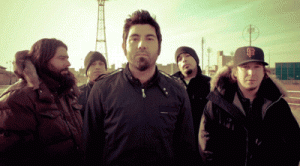 The band kick things off with first single Prayers/Triangles, a piece of gossamer dream pop bliss, with vocalist Chino Moreno's ethereal wail riding ringing guitars and drummer Abe Cunningham's thundering percussion.
Acid Hologram is a 90'a alt-rock throwback, revisiting past influences like Hum and Smashing Pumpkins with its satisfying over-saturated guitar riff, melodic bass-line and melancholy flavor.
But if there's any decade Gore pulls from the most, it's the 80's, revisiting genres as diverse as thrash (the brooding if slightly uneven Doomed User), Goth (the deeply textured stunner Hearts/Wires) and Pittura Infamante, which features harmonized guitar lines straight out of the NWOBHM.
That last influence is a telling and interesting development. Deftones have always eschewed guitar solos and overly fancy fretwork, relying on guitarist Stephen Carpenter's punishing riffs (and Moreno's occasional post-punk flourish) to do the heavy lifting.
This helps set the tone for a slight departure resulting in the album's high point–Phantom Bride, a gorgeous dark ballad featuring a ripping, evocative lead from Alice in Chains' Jerry Cantrell. It's a moody miasma of psychedelic classic rock and Cure-esque atmosphere.
Other notable highlights include the disorienting Xenon, which mixes funky guitar squalls and gurgling electronics and the dynamic album closer Rubicon.
Gore is a slight step back from Koi No Yokan in the immediate gratification department. But its melodic potential rewards in repeat listens. It's beautiful, yet brutal, serene and savage, lusty yet unforgiving. It's a package wrapped up in a taut bow that takes awhile to untangle. It's worth the effort to unwrap.
You can preview/order 'Gore' via iTunes or Amazon below: