DC Comics: 'My First Book of Super-Villains' Review: with 'Suicide Squad' ready to storm cinemas, here's a more kid friendly alternative which offers life-lessons through DC's most iconic heroes and villains.
As a new father to a baby girl, I feel a strong paternal inclination to do two things: (1) to teach her right from wrong and (2) to get her interested in comic books and superheroes!
So while she's far too young to see the upcoming WB/DC Comics film Suicide Squad (in theaters August 4th), and Wonder Woman and Justice League in 2017 there's still a great way to get her acquainted with all the heroes and baddies of the DCU, while also teaching her some valuable life lessons. And that's where My First Book of Super-Villains (by David Bar Katz and Morris Katz) comes to the rescue.
Another in a series of DC's excellent board books for children, My First Book of Super-Villains tagline is to help children "learn the difference between right and wrong." And over its eye-popping, primary colored pages, we have several sterling examples of what character traits separates arch-villains from their heroes, from The Joker and Batman to Superman and Lex Luther, Cheetah and Wonder Woman and more.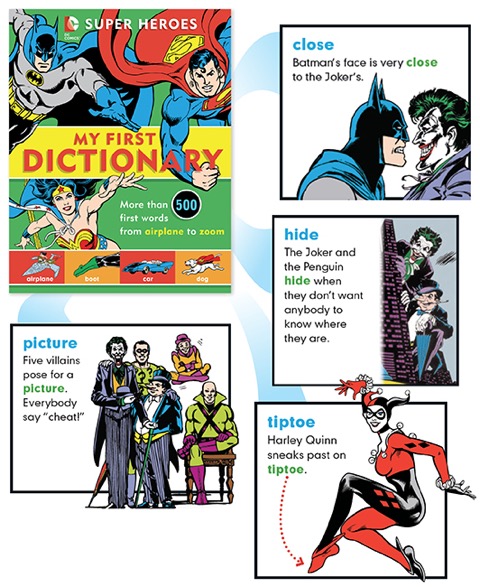 I'd also like to give a shout out to another DC title that helps kids learn: what better way to teach your super-tyke to increase their vocabulary than with superheroes? DC comes to the rescue again with DC Super Heroes My First Dictionary, featuring over 500 vocabulary expanding words that relate to the DC Universe, with crisp vintage comic art to boot.
It's wonderful bonding experience for a parent to read to their child, and when it involves superheroes it's a win-win for comic book geeks and their progeny. I'm happy to have My First Book Of Super-villains and the DC Superheroes Dictionary in my bedtime story arsenal.
You can order DC Comics: 'My First Book of Super-Villains' and 'DC Super Heroes My First Dictionary' from Amazon below: