Dälek 'Endangered Philosophies' Review: alternative hip-hop act's dystopian soundscapes and caustic lyrics capture Trump-era angst. 
Experimental hip-hop act Dälek have always forged their own idiosyncratic path. The group combine elements of industrial and shoegaze with lyrics offering insight in uneasy times. And their latest release, Endangered Philosophies (out September 1st via Ipecac Recordings), is a full on sonic assault against our current resurgence of xenophobia.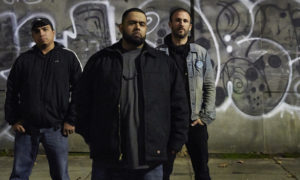 Take the clearly pointed Son of Immigrants, with MC Dälek (aka Will Brooks) declaring "I'm your worst nightmare / Educated and born here…Prepared for warfare/We ain't going nowhere" over uneasy trip-hop beats. It's a poignant anthem for simply trying to co-exist in an increasingly hostile environment.
Echoes Of is a powerful opening salvo, laced in industrial overtones, offering a chorus that also serves as a manifesto: "We the, Echoes of Martin, of Malcolm/Of Evers./Of Hampton, Of Seale/Our Peoples won't kneel!"
Sacrifice mixes 70's soul melody with diffuse ambient drones, but its dreamy, woozy arrangement belies its lyrics, which gives a harsh critique on the Trump presidency: "Guess the paradigm shifted / Now the world teeters… Elected leaders shout without research / Some y'all acting like characters by Harriet Beecher."
The brooding Battlecries is another standout, detailing how artistic influences give comfort in times of deep uncertainty: "Sustained by the refrains of Coltrane/Find solace in phrases exhaled by Ian Curtis/Only hope to travel further."
While the lyrical content on Endangered Philosophies demands attention, its important to appreciate the dense atmospherics soundscapes (provided by producer Mike Manteca, Turntabilist DJ rEk, and Dälek himself) that augments the wordplay, balancing ethereal guitar feedback and noir synth textures to powerful effect.
The album ends with Numb, a haunting track that laments our current era, while acknowledging no one escapes unscathed : "This is gonna change me/This is gonna change you!"
Endangered Philosophies is a deeply rewarding, yet bracing listen. It offers no easy answers, instead providing context and catharsis. The mind is the most potent weapon against intolerance and panic, and Dalek offer plenty of ammunition to brave this uneasy moment in history.
Own Endangered Philosophies on Amazon:
[themoneytizer id="12119-19″]