Dale Crover 'The Fickle Finger Of Fate' Review: Melvins drummer offers eclectic affair on début solo album.
For his first full-length solo album The Fickle Finger of Fate (due August 4th, via Joyful Noise Recordings) veteran Melvins drummer Dale Crover showcases his musical gifts in both expected and unexpected ways.
Over 20 tracks (co-produced by Crover and frequent Melvins collaborator Toshi Kasai) , Crover covers quite a bit of sonic terrain. Several tunes are unsurprisingly drum-focused, including cavernous opener Chicken Ala King, and jazz-inflected numbers like None, No More and Giant Hunka Cake. The eerie There Goes The Neighborhood is a particular percussion-centric standout, showcasing his formidable chops over eerie hushed vocals.
Hillbilly Math is a boogie rock gem, propelled by a hooky riff and Crover's granulated croon, while Thunder Pinky sounds like a lost Melvins track, augmented by cinematic keyboards and crunchy guitars. Bad Move is another keeper, a chunky, funky number that's as subdued as it is catchy.
Little Brother is a low-key charmer, with a central psychedelic melody that sounds like Mission of Burma's That's When I Reach For My Revolver covered by Mercury Rev.
In fact, if there's one (surprising) genre that captures Fickle Finger's essence, it's 70's psychedelia, showcasing a mellower, defter touch that might surprise Melvins diehards expecting a collection of Sabbath'ish ragers. Both the title track and I Found The Way Out both recall Meddle-era Pink Floyd, awash in pastoral melodies and cooing vocals (both of which feature Redd Kross/Melvins bassist Steve McDonald).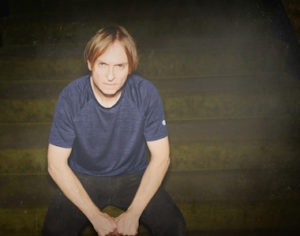 The Fickle Finger of Fate should satiate and surprise Crover's fanbase–scratching the bottom-heavy itch they crave, while shining a light on Crover's diverse influences and melodic songcraft. While it's been a mighty long gestation period for his solo début to materialize, let's hope fate's fickle finger allows a follow-up to materialize much sooner.
Buy Dale Crover's 'The Fickle Finger Of Fate' on Amazon:
[themoneytizer id="12119-19″]