Crystal Fairy 'Crystal Fairy' Review: supergroup featuring members of The Melvins, Le Butcherettes and At-The-Drive-In create a beautiful, bruising noise on hallucinatory self-titled début album. 
When the news that Le Butcherettes Teri Gender Bender, Melvins' King Buzzo and Dale Crover and At the Drive-In/Mars Volta's Omar Rodriguez-Lopez were joining forces for the new group Crystal Fairy, expectations were high.
Click here for my interview with Teri Gender Bender discussing the new album 
The fusion of such a diverse and powerful cadre of musicians captured the imagination: how would these outsized musical personalities coalesce in a new context?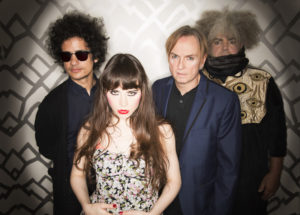 The answer is pretty damn great. The group's début twists metal, punk and psychedelia into exciting new shapes. Opening track Chiseler is a sonic onslaught so volatile it sounds ready to fall apart at any moment, yet never relents, with a bludgeoning stoner riff aligning divinely with Gender Bender's unearthly wail.
Th band perfectly splits the difference between each members stylistic gifts, resulting in a uniquely varied sonic palette: Necklace of Divorce has a punkish fervor, while the self-titled track is a full-blown metal anthem punctuated with a mid-song spoken word call-to-arms. Tunes like Under Trouble are harder to define, a weird miasma of art-rock and horror score, with an eerie spidery riff that makes for a unique musical hook.
In addition to his sludgy riffs, King Buzzo (Buzz Osborne) contributes backing vocals, most notably on the group's cover of Tales of Terror's Possession, where his guttural vibrato dovetails perfectly with Gender Bender's high-register delivery.
The rhythm section of Dale Crover and Garcia-Lopez (who holds down 4-string duties vs. his usual guitar-centric role) also shine throughout, giving solid bedrock foundation to keep the unhinged furor in check.
Gender Bender is a marvel here, pushing her mighty pipes to new levels on simmering tracks like Bent Teeth and Vampire X-Mas. Her banshee wail brings her hallucinatory dream imagery lyrics to vivid life, most notably on Drugs on The Bus: Restrains the roots, she uses them to cut out her eyes/the iris shines, the sun is born/the man begins to laugh!
Crystal Fairy's name fits their sound perfectly: punishing riffs amidst a thick and mysterious atmosphere, an uneasy alchemy resulting in a killer début. Given each member's busy schedule with their primary musical endeavors, it's too soon to begin clamoring for a follow-up. But one hopes it won't be too long–and that it's not a one-off. Crystal Fairy casts a powerful spell that won't be broken anytime soon.
Preorder Crystal Fairy on Amazon: