Concert Review : New Order sound revitalized, even without Peter Hook at their sold out Dallas show.
New Order are a band that I've always loved ever since high school, but never had a chance to see live..until Friday night.
My expectations were muted. Would the band pull it off without bassist Peter Hook (who left after a row with frontman/guitarist Bernard Sumner)?
Hook is one of the most unique bassists in rock history. With Joy Division and New Order, he used his bass lines for more melody than rhythm, which was and is still an anomaly. His unique sonic signature is in many ways the band's calling card.
But be that as it may, New Order put on one hell of an energized show.
The set started off with the ghostly instrumental 'Elegia'. Followed by their 2002 dance rocker 'Crystal'.
Sumner was warm and friendly to the crowd, apologizing for not playing in Texas for so many years. It seemed heartfelt. His oddest bit of stage banter was when he told us that they had technical difficulties as a rat had crawled into the bass drum. Wha??
The 'Substance' cassette was a mainstay in the tape deck of my first car. 'Ceremony' was of course that first track, a life affirming salvo with its chiming bass and gliding guitar….and I had chills hearing it live.
'Age Of Consent' also killed, with its buoyant base and oceanic synths washing over the enraptured crowd.
Throughout the show, the band had excellent lighting as well as live projections…sometimes it was a video shot for the song, other times experimental film footage or computer graphics, always visually arresting.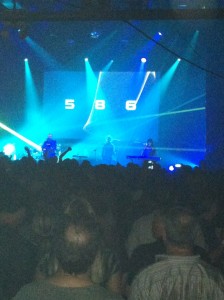 And about that new bassist (Tom Chapman). As a fan I have to say to the doubters….get over it. He nailed that sweet chorus laden tone, did all the rubbery lead lines…all to a tee.
While Hook's distinctive bass tone defined the sound of the band…it also encompasses Sumner's (who is one of the most underrated guitarists ever), Stephen Morris's robotic drumming and returning member Gillian Gilbert's keyboards. They still sound like New Order.
Getting back to the show: 'Bizarre Love Triangle' got the dance floor jumping, with middle age Gen-Exers like myself taken back into new wave nirvana.
I also really enjoyed 'Here To Stay' a song co-written with the Chemical Brothers….it had a whip cracking beat and was very catchy.
'Temptation' was narcotic bliss as well, with everyone singing in unison to Sumner's stream of consciousness lyrics; "Oh you've got blue eyes, Oh you've got green eyes, Oh you've got grey eyes"…
And Joy Division fans were in luck, as they played several songs of their former incarnation. "Isolation" was the first, and most distinctive, as the band gave it a techno makeover .
The band's iconic track, 'Blue Monday' sounded epic, made even more grim and sonically imposing live.
The encore was all Joy Division songs, culminating in "Love Will Tear Us Part" which showed pictures of the late frontman Ian Curtis, followed by the words : "Joy Division Forever". It made for a touching moment, and the perfect ending to an excellent show (although I wish they'd played 'Regret', 'Subculture' and '1963'. Oh well).
I hope Peter Hook returns to his old band someday, but for now they have it covered.
SET LIST:
Elegia
Crystal
Ceremony
Age of Consent
Love Vigilantes
Isolation (Joy Division cover)
Here to Stay
Your Silent Face
Bizarre Love Triangle
586
True Faith
The Perfect Kiss
Blue Monday
Temptation
Encore:
Atmosphere (Joy Division cover)
Shadowplay (Joy Division cover)
Transmission(Joy Division cover)
Love Will Tear Us Apart(Joy Division cover)
**Check out the Joy Division/New Order greatest hits collection on iTunes.
And here's a great piece in the Guardian about the band's history.