Concert Review: Lords of Acid at Elysium: raunchy electronic music titans bring down the house in Austin, TX. 
It was a pleasantly cool Wednesday evening in Austin, but if you were at Elysium, it was steamy. The humidity in the goth hangout befitted horn-dog headliners Lords of Acid (echoed by attendees wearing glowing devil-horn headbands).
The show felt more like a mini-festival, offering a hefty chunk of industrial, techno and goth for your business dollar, with supporting acts that included ex-KMFDM member En Esch, Christian Death and Combichrist.
Christian Death's brisk set was augmented by projections of H.R. Giger imagery and blasphemous images, while husband/wife duo Valor Kand and Maitri rocked some serious medieval bling. I never got to see them back in the day (RIP Rozz), but their pioneering death rock remains potent, rising above the muddy sound mix.
Combichrist kept the energy up with their mix of industrial riffs and disco beats, getting the audience into a state of foreplay for the headliner.
Lords of Acid played their 1994 techno-industrial opus Voodoo-U in its entirety last night, but unlike many acts who perform classic albums in sequence, the group played it fast and loose, interspersing other hits and deep cuts as well.
Things got off to a fever pitch with the title-track which saw vocalist Mea Fisher take full control of the crowd, belting the requisite high notes while maintaining an intensely physical performance which often saw her brandishing her mic like a knife.
The Lords set felt like the 90s never ended. There was a pit going on throughout the night, even on display on more subdued tracks like Drink My Honey and the reggae-tinged Marijuana in Your Brain. Crowd surfing was in full effect. And Fisher stage-dived with gusto. There were even the occasional pair of glow sticks in the crowd.
Band mastermind/keyboardist Praga Khan, appeared to be having a blast, flashing his big goofy grin under his frizzy blonde bowl cut, while towering bassist DieTrich Thrall lurched around the stage. Backing vocalist Devon Disaster remained in lockstep harmony with Fisher, the two exchanging hugs and laughs throughout the set.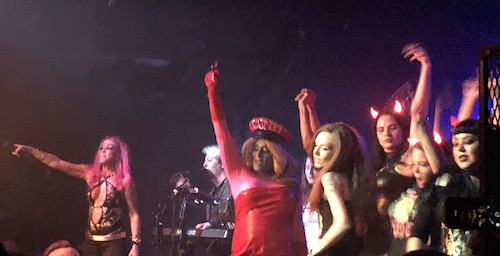 Rubber Doll saw the band distributing an inflatable sex doll throughout the crowd to laughs and cheers. Afterwards keyboardist Roland Turner invited the ladies to take the stage (with strip club DJ gusto). The group then launched into Pussy, their raunchy 1997 anthem that remains as irresistible as it is ridiculous.
The set closed with the one-two punch of The Most Wonderful Girl, followed by their 1991 hit I Sit on Acid, which skipped the iconic Darling come here intro, but retained its inimitable bump and grind delivery. A great climax (pun intended) to a devilishly fun night.
Lords of Acid Elysium Setlist:
Voodoo-U
Do What You Wanna Do
Young Boys
Dirty Willy
Drink My Honey
Mr. Machoman
She and Mrs. Jones
Blowing Up Your Mind
Out Comes the Evil
Marijuana in Your Brain
The Crablouse
Rough Sex/Take Control
Rubber Doll
Pussy
Scrood Bi U
Let's Get High
ENCORE:
The Most Wonderful Girl
I Sit On Acid