Concert Review: Bryan Ferry at ACL Live: the suave master of glam and sophisto-pop wows at rare Texas show
Opening with the pulsating and sensual 1982 Roxy Music track The Main Thing, Bryan Ferry came out guns blazing for his March 22nd performance at ACL Live. Backed by a 9 piece band and an inescapable groove, the audience was immediately smitten.
Ferry, who hasn't played the Austin, TX (or the Lone Star State in general) in decades, took full advantage of the ACL Live Moody Theater's pristine sonics and glamorous lighting setup (which featured the occasional disco ball). Ferry and his band mates offered a ton of 1970's and 80's nostalgia that drew upon his solo work and wide-ranging Roxy Music material, making for a varied and dynamic set.
Slave To Love was an early highlight conjuring all the widescreen romance that made it a Reagan-era hit, followed by glam-rock opus Ladytron which ended in a storm of guitar bravura.
Ferry whipped through a plethora of hit singles and deep tracks, be it the anthemic Roxy Music classic Oh Yeah or solo gems including the hypnotic Zamba and the French flavored Bête Noire.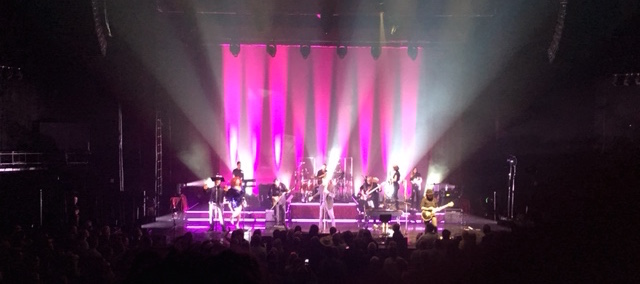 Rather than opt for an encore, Ferry took a break mid-set, which gave his band a chance to shine on the instrumental Tara, which featured a simmering sax solo from Aussie wunderkind Jorja Chalmers (who stole the show throughout), and guitar atmospherics from lead guitarist Jacob Quistgaard, both of whom gained standing ovations.
Ferry emerged refreshed to plow through more classics, including an eerie, cinematic take on In Every Dream Home a Heartache, and new wave hits More Than This and Avalon (the latter featuring chill-inducing backing vocals from Bobbie Gordon).
Speaking of vocals, Ferry was in top-form throughout–while his pipes have thickened with age, his debonair, elegant croon was intact, particularly during the one-two punch of Love Is The Drug and Virginia Plain, both of which led to deafening applause, provoking a big grin from the singer.
He apologized for not visiting Austin in ages, joking "things get in the way, y'know?" before wrapping up the night with his emotive cover of John Lennon's Jealous Guy and slamming glam number Editions of You.
At 26 songs, the crowd more than got their money's worth. If there were any quibbles to be found with the performance, it would mainly be his solo material taking a backseat to his Roxy Music catalogue and covers like Neil Young's Eye of The Hurricane. 80's hits Kiss and Tell, Don't Stop The Dance, The Right Stuff, Is Your Love Strong Enough and Dance Away The Heartache were curious omissions, and fans of his 90's and 00's output were out of luck.
But with a show so euphoric and moving, nitpicking seems unfair. The audience would have happily stayed all night for more, but with a blown kiss and a wave he was gone. His old-school showmanship and glamour remain timeless, making for one unforgettable night.
Bryan Ferry ACL Setlist:
The Main Thing
Slave to Love
Ladytron
Beauty Queen
Where or When (Rodgers & Hart cover)
Oh Yeah 
Bête Noire
A Waste Land
Windswept
Out of the Blue
Zamba
Stronger Through the Years
Like a Hurricane (Neil Young cover)
Tara
Take a Chance with Me
Re-Make/Re-Model
In Every Dream Home a Heartache
If There Is Something
More Than This
Avalon
Love Is the Drug
Virginia Plain
Tokyo Joe
Jealous Guy (John Lennon cover)
Both Ends Burning
Editions of You