The Coachella 2014 Music Festival Lineup has been announced. AND IT'S AMAZING.
Every year Coachella offers an odd, yet winning mix of alternative music, past and present, and this year is no exception.
As was earlier predicted across the web, Outkast will be reuniting for the event, and will be headlining both weekends, along with the Arcade Fire and Muse.
What really caught my attention was the plethora of many of my favorite alt-rock bands from the 80's and 90's; Bryan Ferry, The Replacements, The Cult, Queens of The Stone Age, Fishbone and Superchunk will all be performing at the festival this year.
Newer acts that will be performing include Lorde, CHVRCHES, The Knife and more.
And for some nice oddball pairings, Motorhead will be appearing, but Lemmy goes with every great occasion.
Other artists of note, include Pet Shop Boys, Beck, Neutral Milk Hotel, Fatboy Slim, Beady Eye, Jon Spencer Blues Explosion, MGMT, as well an appearance by The Toy Dolls, a beloved underground punk band.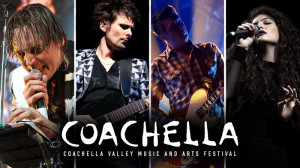 This is merely just scratching the surface of the full lineup, but these are what immediately got on my radar and has me seriously seeing I can figure out how to get my ass up to the desert. It looks to be one of the festivals best lineups to date. And I'm super stoked that The Cult are finally getting their due at one of the big alternative rock festivals, it's about damn time.
The festival will be held April 11-13 and April 18-20 at the Empire Polo Fields in Indio, Calif. All artists will be playing both weekends.
For Full details of the lineup and for tickets, click here to go to the official festival website:
So are you as excited by the Coachella 2014 Lineup as I am? What bands are you looking forward to seeing (or kicking yourself because you can't make it? Tell me in the comments.