Coachella officially release their 2013 lineup and it's as impressively diverse as past rosters.
The California festival will be quite Brit heavy; headliners will include Brit-pop legends Blur, Manchester band The Stone Roses, and other English acts include The XX and New Order (check out my recent reviews of The XX's Coexist and New Order's Lost Sirens of both of their latest albums), Spiritualized, Johnny Marr, and OMD.
There'll be plenty of veteran state-side acts as The Red Hot Chili Peppers will be headling as well. Other notable American acts include Lou Reed, Yeah Yeah Yeah's, Dinosaur Jr, Moby, Social Distortion, and Violent Femmes. And cult punk band The Descendants are reforming for the festival.
And there's more! Nick Cave will be performing with the Bad Seeds AND Grinderman. Sigur Ros will be appearing, as will Trent Reznor's new band How To Destroy Angels. You can find out more info on the full lineup by clicking here , (or here if you prefer to see artists in alphabetical order)  or just check out the poster below.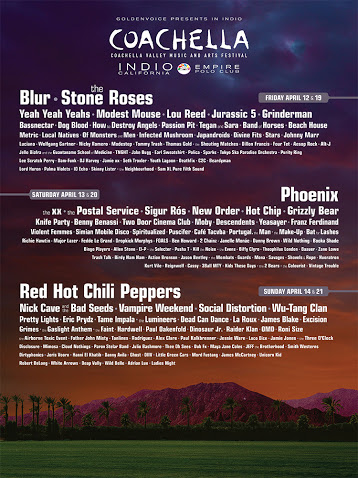 All in all another awesome bill for the Coachella festival Another festival with an amazing line up this year is Primavera Sound in Spain. Check out their lineup.