Blu-Ray Review: The Silence of the Lambs [Criterion Collection]: 90's horror classic finds itself in pristine grisly form in this definitive Blu-ray release. 
Jonathan Demme's 1991 adaptation of Thomas Harris's novel The Silence of the Lambs remains one of the most iconic and memorable psychological horror films ever made. It helped popularize serial killers and FBI criminal profilers in cinema, and has gone on to inspire sequels, ripoffs, and even a television show, leaving an indelible imprint on pop culture in the process.
Horror films rarely win any award accolades, but Lambs won Oscar for best picture, and Demme for best director. Jodie Foster won best actress for her turn as intrepid FBI rookie Clarice Starling, followed by her co-star Anthony Hopkins, whose unforgettable portrayal of the evil (yet charming) Dr. Hannibal Lecter made both actor and character a household name.
And thanks to the fine folks at Criterion, Lambs is getting the Blu-ray treatment worthy of its reputation.
I'd feel funny giving a full-on review, given Silence of the Lambs's ubiquity. Suffice to say if you know someone who hasn't seen it, it's either not their cup of tea, or they're not of viewing age (I will say if you're a Lambs/Hannibal fan but haven't seen Michael Mann's Manhunter, rectify that immediately).
So let's skip to the specs and special features so you can decide if you want to make the upgrade from earlier DVD and Blu-ray editions.
The Picture: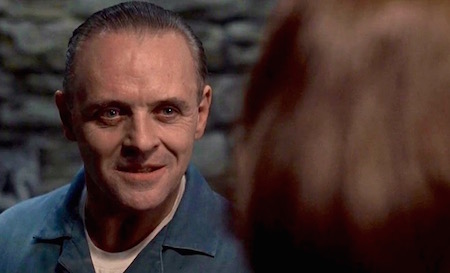 Silence of the Lambs cinematography (by Tak Fujimoto) has the diffuse look that was en vogue during the late 80's and early 90's. It's not a flashy looking picture, but it's mundane, earthy tones work to its favor. It feels like "our world" making the prospect of serial killers like Jame Gumb (Ted Levine) and Lecter all the more frightening.
That being said, the stellar HD transfer is a noticeable improvement from early editions, with more vibrancy during darker scenes and more luminous daytime sequences. Clarity is in full effect, from the lurid red lighting of Lecter's holding cell to actor Scott Glenn's pores. Simply put, the film looks better than ever, and I'm not sure any future release (sans a 4K transfer) will be needed.
 Sound:
Criterion includes the DTS-HD Master Audio 5.1 track that has accompanied previous Blu-ray releases, but goes one better with the film's original 2.0 stereo track presented in DTS-HD Master Audio, which according to the product description has been "remastered from the 35 mm magnetic track."
In fact its one of the best audio transfers is recent memory: the dialogue is crisp, the sound effects brutally effective, and Howard Shore's haunting, operating score has never sounded better (ditto for Q Lazarus' eerie New Wave track Goodbye Horses during Gumb's haunting dance sequence).
Extras:
It's worth noting that Criterion haven't supplied many new special features, but the two new entries are impressive.
Interview with Maitland McDonagh: (HD, 18 minutes) – In this absorbing 2017 interview, the noted film critic gives a thorough exploration of the themes of the film along with the history of serial killers, and she knows her stuff. It's engrossing and entertaining, while also reminding us how much pain real life murderers leave behind.
There's also a treasure trove of deleted scenes–38 minutes in fact, 15 of which have never been released before, which gives some insight into (among others) an unused subplot, more scenes of Clarice training at Quantico, and Hopkins having fun cracking people up on set. The original trailer is also included–and its a textbook example on how to market a film featuring such disquieting subject-matter.
All the other features have been ported over from earlier editions, including some revealing 2005 interviews with Foster, Demme and Hopkins, the engrossing 2001 doc The Making of The Silence of the Lambs: Inside the Labyrinth," an interview with composer Howard Shore, and Understanding the Madness, which features actual FBI agents discussing the realities of criminal profiling.
In addition, the disc includes an episode of BRavo TV's Page to Screen, discussing the process the film took from its literary roots to Demme's final vision, storyboards and the original 1991 behind-the-scenes featurette.
Criterion also restores the 1994 audio commentary featured on the original Laser Disc, featuring witty and absorbing anecdotes from Foster, Demme, Hopkins, screenwriter Ted Tally and FBI Profiler John Douglas, (who Glenn's Jack Crawford character was based on). It adds a whole new dimension to the experience and will even enlighten Lambs fanatics who think they've heard everything to say about the film.
In other words, Silence of the Lambs has never looked or sounded better. And speaking of which, let's not forget the wonderfully lurid box art, and deluxe booklet filled with even more critical analysis and interviews. To quote Hannibal Lecter, All good things to those who wait. It may have taken 26 years to get the definitive home video release for the late Demme's most famous film, but now it's here.
So have someone over for dinner with some fava beans and a nice Chianti and soak in its grisly charms. Or better yet, watch it by yourself. With the doors locked.
Own it on Amazon: