Black Needle Noise 'Lost in Reflections' Review: veteran alternative producer John Fryer creates a haunting, narcotic, sonic tapestry on latest release. 
John Fryer might not be a household name, but if you're a fan of electronic music you've certainly heard him, and owe him a massive debt of gratitude. The musician/producer has worked with some of the most iconic alternative artists of all time, including Nine Inch Nails, Depeche Mode, Love and Rockets, Cocteau Twins and Swans (to name but a few).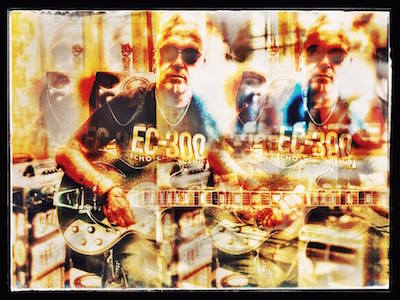 He's also one of the founding members of goth legends This Mortal Coil, whose cover of Tim Buckley's Song For The Siren so enthralled director David Lynch that it inspired his work with Julee Cruise, whose song Falling became the theme for Twin Peaks. And in a wonderful moment of serendipity, Fryer recently collaborated with singer Chrysta Bell for a cover of the iconic television theme (she also appears in the show's third season).
Fryer returns with his electronic rock project Black Needle Noise on the new album Lost in Reflections (due out July 13th). This musical collective features a variety of vocalists, all of which compliment his material in dynamic fashion.
The trip-hop'ish opener Treasured Lies features hush, soaring vocals from Zialand, cascading across distressed sonic textures and oceanic soundscapes.
Kendra Frost lends her seductive pipes on two tracks, the hypnotic, whirring Warning Sign and the driving darkwave meditation This Kind of Road.
It's not all smooth edges and tranquility however, She Stands on a Storm is a clanging, industrial tinged rocker featuring Andrea Kerr, while A Shiver With Want featuring Mortal Coil alumnus Bill Leeb (also of Front Line Assembly fame) is an ever-shifting composition bleeding inky, nightmarish atmosphere.
What makes Lost in Reflections so bewitching is how Fryer can veer through such a wide sonic palette yet still feel cohesive–be it the dream pop grace  of And Nothing Remains (featuring vocalist Ana Breton), the eerie haunted house atmospherics of Teeth to Grey (featuring Omniflux) to the old-school 80's New Wave closing track (the perfectly titled) Neon Noir.
That last track (featuring vocals from Fryer himself) may be the most infectious of the bunch, with a percolating beat and glistening synths that feel like a lost gem from the 80's.
Lost in Reflections, like its title, proves a musical hall of mirrors, offering sumptuous, entrancing soundscapes dipping its toes in a variety of alternative sub-genres, with Fryer flexing his veteran production skills to masterful effect. It offers sublime nocturnal chill to beat the summer heat.
Buy it on Amazon below, or click here for the Bandcamp page: