2012 was a year full of amazing television. Here's the SLIS list of the Best TV Shows of 2012!
2012 brought lots of good TV shows.  So much, that picking the best of the bunch is a challenge, but we now have our list.
(For those looking for TV related holiday presents  just click on the title image to go over to Amazon ).
Best Premium Cable Drama: Homeland

Some say the Showtime drama wasn't as strong as last season, but it's still maddeningly intense. Carrie Matheson and Nicholas Brody have the most intriguing and damaged relationship ever seen in TV. And Saul Berenson remains a fascinating character, so Emmy and Golden Globes get it together and honor him this year! He's just as integral to the show. And how about that season 2 finale?
Runners up:
Game Of Thrones

Game of Thrones is the best show that I can't always keep straight. So many characters and interweaving story lines can be intimidating. But it's the most character driven fantasy show ever done for TV (or movies for that matter), and endlessly addictive.
Boardwalk Empire

The HBO gangster drama kicked into high gear with Season 3. Nucky Thompson has evolved into one mean bastard, but he was one upped by Bobby Cannavale's twisted gangster Gyp Rosetti. What keeps the show compelling isn't just the violent action, but Thompson's genius scheming at alway getting the upper hand.  (Here's my season 3 finale recap).
 Best Basic Cable Drama: Justified
A simple story of U.S. Marshall Rayland Givens (Timothy Olyphant) keeping his hometown free of southern fried gangsters and other assorted lowlifes, it remains breezy, action-packed fun.
Most improved Basic Cable Drama: The Walking Dead
I've ragged on the AMC zombie series for it's lame second season and half-baked characters. But Season 3 is a big improvement. Let's hope it stays that way. The Mid-Season finale was a high point.
Best Foreign Import: Sherlock BBC
Forget Guy Ritchie's movies and Elementary. It's the BBC series of a modern-day Sherlock and Watson that soars. Classic mystery stories are given high-tech make-overs steeped in psychological complexity with masterful performances by Benedict Cumberbatch and Martin Freeman. More please, and soon!
Best Comedy: Eastbound and Down
This white-trash comedy is so popular that HBO wants a fourth season, even though Danny McBride wanted to call it quits after the Season 3 Finale.In an era of anti-hero protagonists, Kenny Powers is the most loathsome of all. But like a fried dessert at a state fair, we can't resist, even while hating ourselves for doing so.
Best Guest Appearance: David Lynch on Louie
David Lynch was an inspired choice for cranky tv producer Jack Dahl, and his chemistry with Louis CK was amazing, resulting in the best episode arc of the show to date.
Best Reality Competition:
Killer Karaoke
I HATE reality tv competitions as a general rule. But I also have a sick sense of humor, so it's hard not to love people singing while wearing shock collars among other insane distractions. But Host Steve-O's canned delivery is painful.
Runner Up: Ink Master
Why would people sign up as guinea pigs for a rushed tattoo contest? I dunno, but it's fun to watch artist's battle each other for tattoo domination (although I always get bummed seeing Dave Navarro as a reality show judge instead of rocking out on guitar).
Best Reality Series:
Again, a phrase and genre of TV I hate, with these exceptions…..
Oddities
Weird taxidermy, quack medical devices, and more, all explained by the charmingly quirky shop owners of NYC's Obscura. Super addictive!
Runner up: Toy Hunter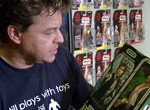 Generation X nostalgia abides in this Travel Channel show devoted to hunting down the rarest toys from Star Wars, Mego's, and other endearingly odd toys of the 60's, 70's and 80's. If only I had all my old stuff in pristine condition…I'd be retired by now :-(.
Best Animated Series: The Ricky Gervais Show

It should really be The Karl Pilkington Show, because Gervais's oddball friend has the wackiest, most mind bending observations on the human (and animal) condition I've ever seen. Is he an idiot  or an idiot savant? I don't know, but god is he funny. (I also love him in the Gervais produced  Science Channel series An Idiot Abroad).
Best Animated Special : Robot Chicken's DC Comics Special
Watching the DCU get lampooned was the funniest thing Seth Green and co. have done to date
Best Comedy Variety (tie): The Soup, Real Time With Bill Maher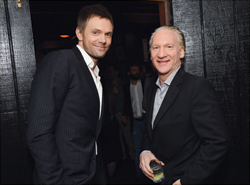 The most reliable sources for skewering the worst in celebrity pop-culture and politics respectively.
Best Music Shows:
There's not much to choose from, but Later With Jools Holland and That Metal Show fit the bill….
So that's the SLIS Best TV Shows of 2012! Agree? Disagree? What would you add to the list? I'm sure I'll get grief for leaving out Breaking Bad and Mad Men, but those are two shows I haven't dived into yet.
And be sure to check out my Best Blu-ray and DVD Box Sets for more TV and movie awesomeness. You might also want to check out my finale recaps for Dexter and The Killing…
More Tv Related Gift Ideas….